How business inkjets come out
The traditional view is laser printers outperform inkjets in terms of printing speed and large file processing. And are widely used in office environments.
The high price of color laser equipment exceeds the affordability of many small and medium-sized enterprise users. However, despite their low purchase costs, many inkjet devices have the problem of costly ink cartridges, slow printing speeds, poor batch processing capacity, and frequent replacement of cartridges — particularly when used in the office.
Is there a product that has the speed and performance of a color laser without a high price? To meet the demand for printing —particularly in the office — the concept of business inkjets was developed.
With the improvement of printing technology and performance, business inkjet printers can satisfy the needs of large-scale document processing, high-quality printing effects, and high-efficiency printing that are required in office environments. With lower costs of consumables and low power consumption, the business inkjet machines have gradually become popular in where higher levels of printing are required.
Advantages of business inkjets over lasers:
dual output mode: color and black & white

printing speed as high as or higher than a laser machine, and the output speed of the first page is improved without warm-up

both machine and cartridges are much cheaper than color lasers of the same level, with lower cost per page and longer service life of consumables

strong adaptability to a variety of papers, including inkjet paper and photo paper

lower energy consumption and less noise, more sustainable
The rise of business inkjet market
Since 2003, when HP introduced its first inkjet printer for commercial use in China, the global inkjet vendors have been aggressive in their efforts to move business inkjets into the office.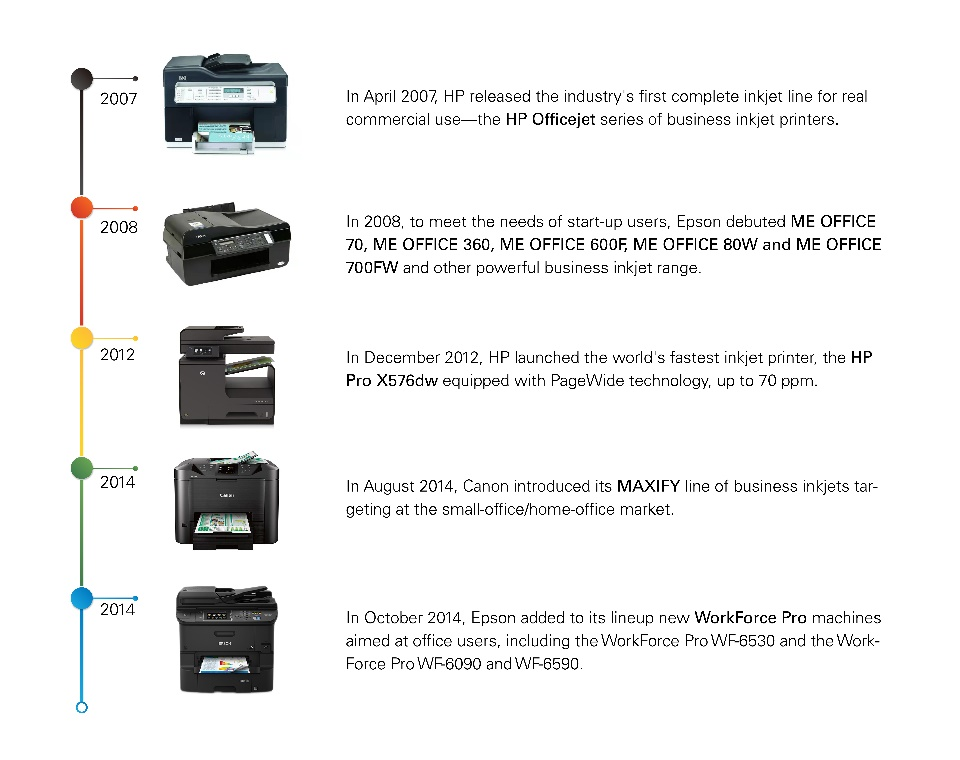 To win a bigger "slice" of the business printing market "cake", the printer manufacturers including Epson, HP and Canon, have strategically moved inkjets from the home and small office to the higher volume medium to large enterprise markets. They continuously launched faster and more cost-effective business inkjet machines, which have been gradually recognized by small and medium-sized enterprise users in recent years.

According to the data from IDC, the global installed base of business inkjet printers in 2021 has increased dramatically to over 8 million.
Following the aggressive steps taken by the inkjet OEMs, Ninestar has already developed the high-potential business inkjet product lines. Powered by years' ink supply technical system and patented technologies, Ninestar has been focused on offering superior OEM-equivalent products, aiming to penetrate the office environment and bringing more opportunities for customer's business to thrive.