Soon after we announced that a new fully automated line has come online for manufacturing replacement HP 226 series on August 25, lots of questions ranging from automation scale to how it benefits partners were received. Among those feedback, we sorted out top 6 frequently asked questions and invited Mr. Johnson Qiang, Vice General Manager of Ninestar Image and Vice General Manager of Printing Consumables BU, Ninestar Corporation to answer and give us a full picture of Ninestar's intelligent manufacturing.

Question 1: How much of Ninestar's manufacturing is automated?

Johnson: Ninestar began investing in automation in 2012. Initially, we developed semi-automated processes. As the move towards automation gathered steam, more processes were automated. Today, much of Ninestar's ink cartridge production has been fully automated and 4 fully automated toner cartridge workshops have come online. Our scale allows us to produce cartridges that truly rival the quality and performance of their OEM counterparts.



Question 2: What products are made in 4 fully automated toner cartridge workshops?

Johnson: New-built replacement toner cartridges for HP 226 series, HP 252/452 series, HP 435 series and Samsung 2160 series.

Question 3: What's the pass rate of fully automated toner cartridge workshops?

Johnson: The average pass rate of our 4 full-automated toner cartridge workshops is 98%.

Question 4: How does automation drive productivity?

Johnson: No doubt, a well-thought-out automation solution can bring increased efficiency and productivity. We use Units per People per Hour (UPPH) to measure the efficiency.




In addition, the Overall Equipment Effectiveness (OEE) of our smart production equipment increases to 90%. An OEE score of 85% is considered world class for manufacturing industry. We are far beyond the world-class standard. Our improvement on OEE also contributes to the increasing productivity.

What's more, digital signage is widely used in our intelligent production workshops. Production metrics, inventory management, product quality reports, and business performance can be updated in real time and displayed automatically on screens. Digital signage shortens response time and helps drive productivity by providing a flexible one-to-many solution for effective visual communication.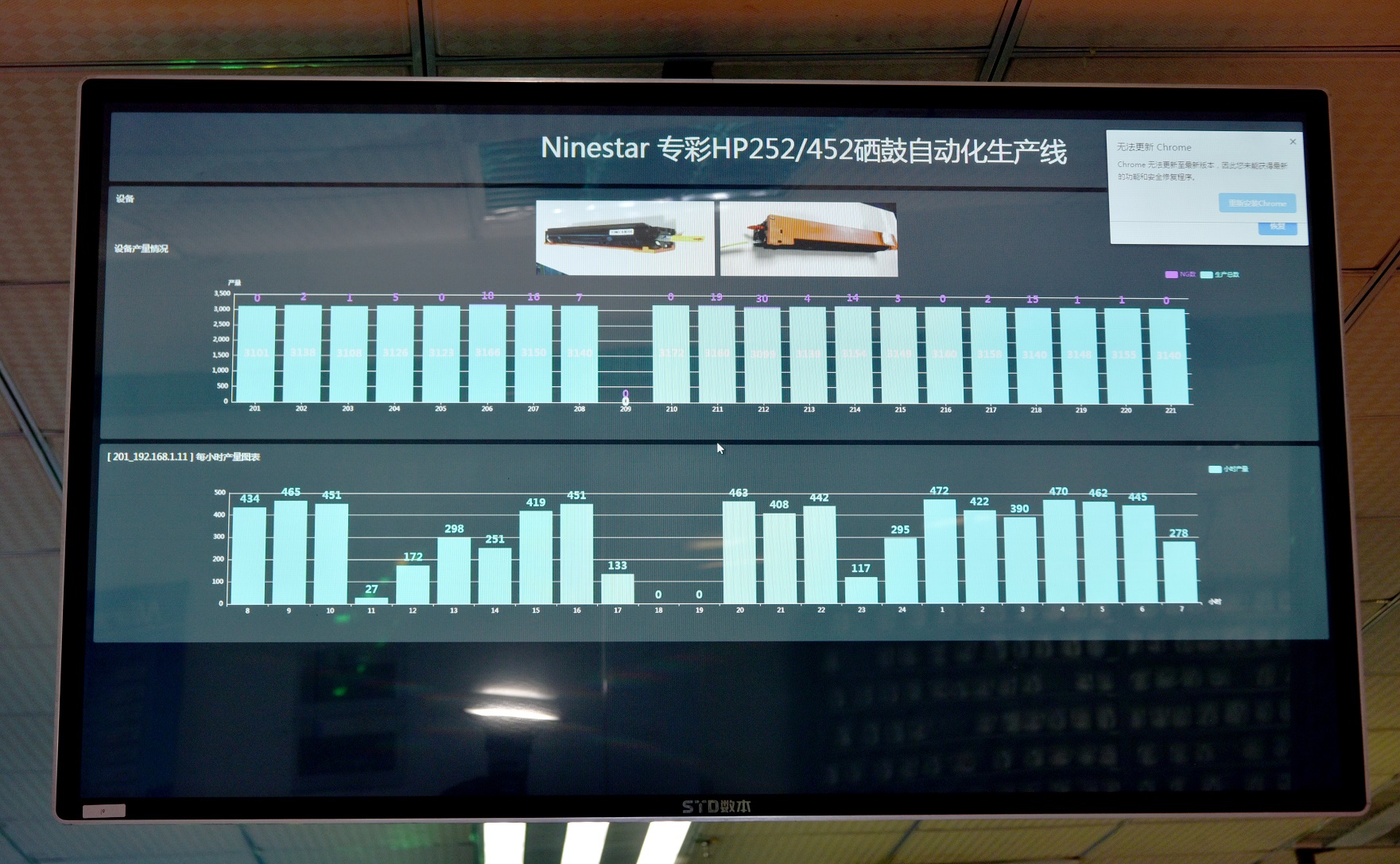 * Digital signage

Question 5: How does automation improve quality?

Johnson: Our state-of-the-art automated equipment improves quality in a number of ways: eliminating human error, improving consistency and identifying error. The first two are easy to understand. How to identify error? Bear in mind that although automated systems improve processes greatly, they have their own imperfections. To prevent this, we invest in a machine vision system to rapidly inspect each item on the production line, ensuring the quality of a component or product. The system uses a combination of lights, sensors and cameras to guarantee each product meets the same specific criteria and may notice defects too small for the human eye.




Question 6: What's the future layout of Ninestar's smart production?

Johnson: Ninestar's development into automated technologies originates from our relentless pursuit of product quality. I'm a great believer that automated production has become the best tool Ninestar possesses to achieve the balance between quality and efficiency. Just like what I've said before, smart production will elevate our customer benefits to the next level. Hence, there is no doubt that Ninestar will increase its investment in automation. It is expected there will be another two fully automated toner cartridge workshops available by next year.