In today's fast-paced business world, efficiency, accuracy, and versatility are paramount.
GGimage
's
Handheld Inkjet Printer
s offer a dynamic solution to streamline your labeling and coding tasks, whether you operate a business, store, factory, or warehouse. These portable, lightweight printers are designed to save you time and enhance precision in printing on a variety of surfaces. With professional inks, vibrant colors, and an array of features, GGimage sets the standard for handheld inkjet printing.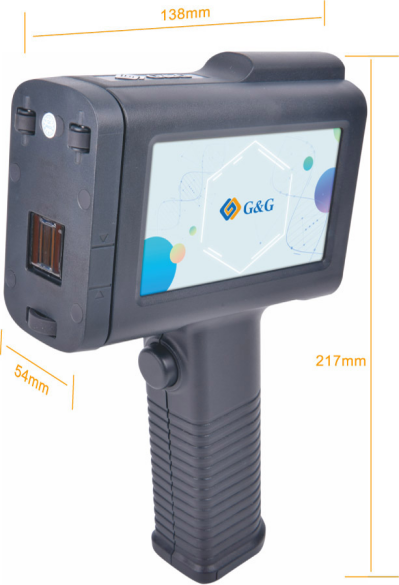 Precision Printing, Wide Capabilities
GGimage's Handheld Inkjet Printers are renowned for their versatility and high precision. Whether you need to print graphics, logos, dates, times, QR codes, barcodes, consecutive numbers, or a combination of these elements, our printers deliver with extreme accuracy. It's like having a professional print studio at your fingertips, ensuring that every print is a masterpiece of precision.
Speed Meets Quality
In the realm of printing, speed matters. GGimage's Handheld Inkjet Printer boasts impressive print speeds of up to 60 meters per minute at 300 dpi. This means you can quickly and efficiently mark your products or documents with crystal clear clarity and sharpness, even in high-demand situations. However, don't let the speed fool you; quality remains uncompromised. With the ability to print up to 600 dpi in HD quality, your prints are not only fast but also exceptionally clear and sharp.
User-Friendly Interface
Efficiency is paramount in any successful business operation. GGimage understands this, and that's why our Handheld Inkjet Printer features a user-friendly 4.3-inch color touchscreen interface. Navigating through options, selecting fonts, choosing languages, and customizing your prints have never been easier. Say goodbye to complicated settings and embrace streamlined, intuitive printing.
Multilingual Support
In today's globalized world, communication knows no boundaries. GGimage's Handheld Inkjet Printers support 11 languages, ensuring you can create labels and prints that cater to your diverse audience. This added versatility further enhances the capabilities of the printer.
Endless Applications
GGimage's Handheld Inkjet Printers are limited only by your imagination when it comes to applications. From retail product labeling to quality control batch details, freight logistics, and beyond, the possibilities are endless. With GGimage, you have an all-in-one solution, eliminating the hassle of switching between different machines for various coding and labeling needs.
Conclusion
Efficiency, accuracy, and versatility are the hallmarks of GGimage's Handheld Inkjet Printers. These portable, high-precision printers are your ideal solution for labeling and coding across diverse industries. With impressive speed, exceptional quality, user-friendly interfaces, multilingual support, and endless applications, GGimage's Handheld Inkjet Printers redefine the way you approach printing tasks.When it comes to precision and convenience, GGimage is your trusted partner. Experience the ease and speed of labeling and coding with GGimage, where excellence meets innovation.