Hey there, fellow print enthusiasts! Today, I want to introduce you to an incredible innovation that will change the way you capture and share your precious moments. Say hello to the
G&G
GO, the
inkless pocket printer
that allows you to print anywhere, anytime.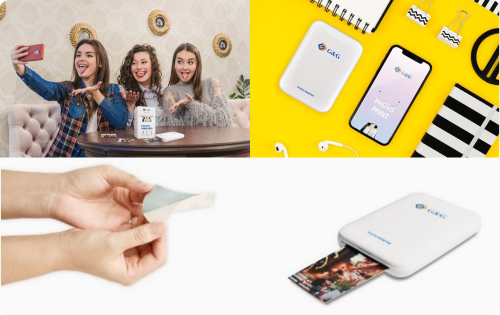 What G&G has to offer
At G&G, we are committed to delivering the best printing solutions to millions of users worldwide. With over two decades of experience in the industry, we have become a premium global brand known for our cost-effective one-stop print solutions and exceptional customer experiences. Our dedication to continuous innovation has made us a trusted name in the market, with more than 200 million satisfied end-users and consumers.
The G&G GO inkless pocket printer is a testament to our commitment to providing quality products that meet the evolving needs of our customers. This compact and portable device allows you to print your photos instantly, right from your smartphone. Imagine capturing those precious moments spent with loved ones and being able to print them out on the spot, creating tangible memories that you can hold in your hands.
With the G&G GO App, available for both iOS and Android devices, printing your favorite photos has never been easier. Simply connect your smartphone to the printer via Bluetooth, select the image you want to print, and watch as it comes to life on high-resolution ZINK™ paper. The result? Stunning, vibrant prints that truly capture the essence of your memories.
But the G&G GO doesn't stop at just printing photos. We've taken it a step further by introducing sticky-backed photo paper, allowing you to turn your pictures into creative stickers. Decorate your walls, stick them into an album, or create personalized gifts for your loved ones. The possibilities are endless!
The standout features of the G&G GO
One of the standout features of the G&G GO is its ability to bring your videos back to life. With this innovative device, you can print a single image from a video and then use your smartphone to scan the picture. Like magic, the video plays right before your eyes, adding a whole new dimension to your printed memories.
In terms of, the G&G GO is designed with convenience in mind. It features an internal rechargeable battery that provides hours of printing power. With its compact dimensions of 4.65" (L) x 3.35" (W) x 0.79" (H) and lightweight construction of just 5.4 oz, it easily fits into your pocket or bag, making it perfect for travel or everyday use.
We at G&G understand that quality is paramount when it comes to printing. That's why we have invested heavily in research and development, ensuring that every component of our cartridges meets the highest standards. Our materials engineers rigorously analyze all raw materials in our state-of-the-art lab, guaranteeing optimal performance and compatibility.
Conclusion
So, whether you're a photography enthusiast, a traveler capturing breathtaking landscapes, or simply someone who cherishes the joy of tangible memories, the G&G GO inkless pocket printer is here to revolutionize your printing experience. Embrace the freedom to print anywhere, anytime, and let your memories come to life in the palm of your hand.
Stay tuned for more exciting updates from G&G as we continue to deliver the best images for millions of satisfied users worldwide. Your image matters, and we're here to make it unforgettable.