In the world of textile printing, finding the perfect ink is crucial to achieving vibrant and long-lasting designs. At
GGimage
, we understand the needs of textile professionals, and that's why our digital
textile inks
are designed to deliver exceptional performance and sustainability. In this article, we'll delve into the world of textile inks, with a focus on how GGimage's offerings are changing the game.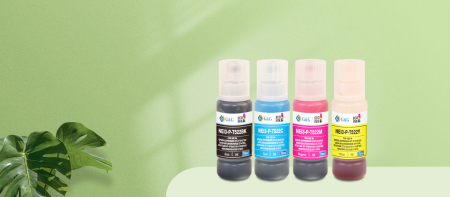 Unmatched Compatibility Across Printers
One of the standout features of GGimage's textile inks is their compatibility with a wide range of printers. Whether you're using an Epson, Ricoh, Konica, or any other printer, GGimage's inks seamlessly integrate into your existing setup. This compatibility saves you valuable time and effort, allowing you to concentrate on what matters most – creating stunning textile designs.
Creating a Strong Physical Bond
GGimage's textile inks excel in creating a robust physical bond with fabric fibers. This unique quality allows you to print on various fabrics, including natural fibers like cotton and synthetic blends. Your patterns will not only adhere beautifully but also maintain their vibrant colors with impressive durability.
Simplicity and Sustainability
Simplicity and sustainability go hand in hand with GGimage's textile inks. Our printing process is streamlined, making it energy-efficient and reducing waste and water consumption. We understand the importance of eco-friendly practices in today's world, and our inks are a perfect fit for those who value sustainability in their creative process.
Vibrant Colors That Captivate
When it comes to color, GGimage's textile inks don't hold back. You'll experience sharp, vibrant colors and a wide color gamut that will make your designs pop and captivate. Whether you're printing intricate patterns or bold designs, our inks ensure your creations stand out.
Environmental Compliance for Peace of Mind
GGimage takes pride in upholding environmentally friendly standards. Our textile inks meet stringent compliance requirements, including REACH and RoHS, giving you peace of mind that your creations are not only beautiful but also environmentally responsible.
Introducing Dispersing Inks: A Game Changer
GGimage's dispersing inks are designed to revolutionize fabric printing, especially on synthetic fabrics like polyester. Say goodbye to cumbersome transfer processes; with GGimage, you can print directly on synthetic fabrics, ushering in a new era of convenience and innovation.
Conclusion
In conclusion, when it comes to textile inks, GGimage stands out as a brand committed to excellence, sustainability, and innovation. With unmatched compatibility, vibrant colors, durability, and eco-friendly compliance, our textile inks are a game-changer for fabric printing. Experience the GGimage difference and elevate your textile designs to new heights.