Based on the development trend of global imaging market and the printing demands of users worldwide, Ninestar will be officially launching G&G Instinkt printing service at 2020 Frankfurt Paperworld Expo and worldwide business partners are wanted on Instinkt project.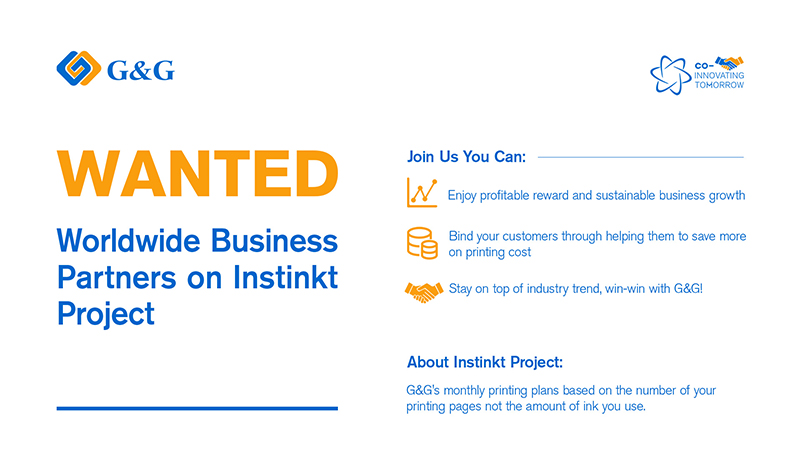 What is Instinkt?

Briefly speaking, Instinkt is a monthly printing package for end users that charges based on the number of printing pages rather than the amount of used ink.

Ninestar Instinkt printing service supports marketing mainstream printers such as HP, Epson, Canon and Brother. So far Instinkt provides only compatible inkjet cartridges. It's expected that compatible toner cartridges, ribbons and printers will be added in the future.

Why joining Ninestar Instinkt is your best choice?

Let's have a look at current situation of imaging industry:

>> IDC shows that the global printer demand has shrunk by from 70 million in 2012 to 58 million in 2019. Traditional sale in aftermarket is struggling in current Internet era and paperless society.
>> Printer OEMs have changed their profit model from "razor-and-blade" to "high-cost machine and low-cost consumables", which squeezes the profit margins of aftermarket dealers.
>> Printer OEMs's innovation on business models also make the aftermarket walk on the thin ice. For example, HP's Instant Ink has tightly bonded end users.

The competition in this industry is intense. To survive this, everyone in this industry needs to change. How to change? Where is the bright future? Ninestar Instinkt creates a new possibility for future aftermarket's profit models.

Ninestar advantages in Instinkt project:

>> Technical support; strong R&D strength with printer OEM background;
>> Comprehensive, high-quality, patented product offerings;
>> Strong global sales network

Join us you can:

>> Enjoy profitable reward and sustainable business growth
>> Bind your customers through helping them to save more on printing cost
>> Stay on top of industry trend, win-win with Ninestar/G&G!

Ninestar Instinkt aims to providing printing service that makes our customers gain more profit and end users gain more convenience. For detailed partnership on Instinkt, please visit Ninestar booth Hall6.1, C56 at Frankfurt Paperworld Expo 2020 or contact your sales representative.