To celebrate its twenty-first year in business, Ninestar has published a new white paper: Ninestar—Just Watch Us Grow! The company explains in its report, which is available at no cost via the link below, how it has grown from a small ink cartridge-refilling operation to the largest third-party consumables manufacturer in the world.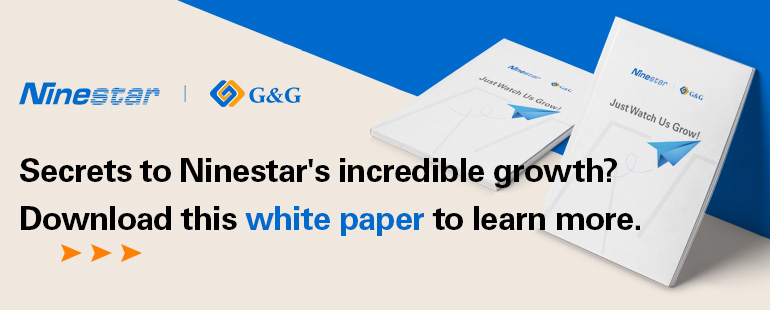 In its white paper, Ninestar—Just Watch Us Grow!, the company offers new insights into its growth strategy. A critical component in that strategy has been the firm's willingness to invest in its manufacturing and R&D assets. As a result, today Ninestar operates a 450,000 square meter campus in the Zhuhai Hi Tech Industrial Development Zone and has the capacity to produce 20 million toner cartridges annually along with 100 million ink cartridges and 30 million ribbon cartridges. Ninestar's technically-advanced R&D team boasts over 2,500 engineers, scientists, and technicians around the world.

Ninestar's phenomenal growth has resulted from the company's ability to be consistently first to market with its G&G-branded ink, toner, and ribbon cartridges. Known for their flawless performance, products in the G&G line reflect the innovation that has been the hallmark of Ninestar's success since it began operations in 2000. To ensure it will continue to produce high-quality, non-infringing products, the company currently holds nearly 5,000 patents worldwide and has another 1,000 patents pending.

"Our customers know they can rely on us to be the first manufacturer to market with the most popular products," says Eric Zhang, General Manager of Ninestar Image. "And they are confident in G&G that G&G always deliver the strongest value proposition. In our latest free white paper, Ninestar—Just Watch Us Grow!, we detail how we have built that trust."

Click here to download Ninestar—Just Watch Us Grow!

If you want to learn more about Ninestar's innovation, click here to download Ninestar—Innovating Success.