As a premium global brand that delivers gold standard consumables and professional printing solutions, G&G raises the bar every day, adding new technology and products that improve users' printing experience. Today, G&G announced it can provide clients with a broadest business inkjet cartridge lineup that rivals OEMs.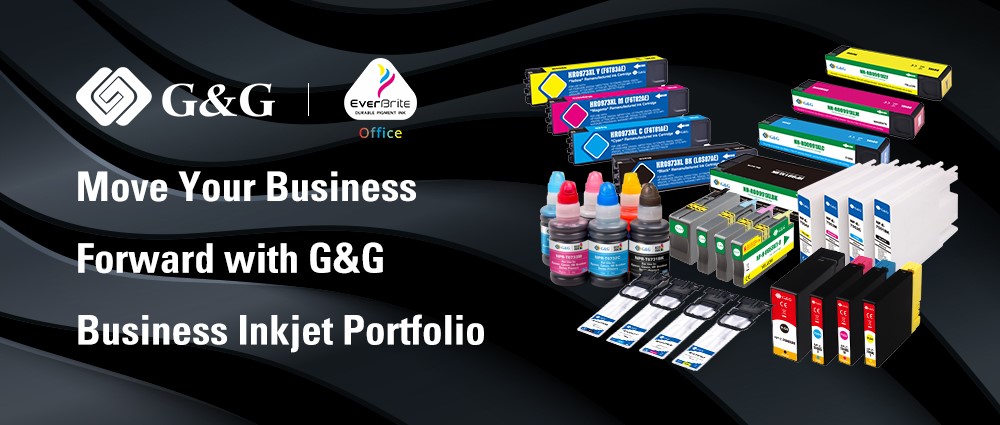 >EverBrite Office Ink—Ideal for Business Printing
EverBrite Office ink is featured in G&G's business inkjet products. With its self-dispersing technology and high quality ink formula, EverBrite Office ink produces reliable results without clogging even under continuous outputs. It is G&G's professional ink solution for business and office users. The extensive comparison tests run by G&G Lab prove its solid performance again and again.


*Check this video to watch the comparison test between G&G and OEM.

>Wide Media Selection
G&G business inkjet cartridge range is tested and improved for many business printing needs on a variety of paper types including plain paper, photo paper, craft paper, medical film, and more special media. Just feel free to explore broader applications of G&G products.

>Worry-free After-sales Service
4 service centers worldwide to provide round-the-clock technical service and a large pool of maintenance kit and instruction support to help grow your business.

G&G business inkjet cartridges for use in following devices are AVAILABLE NOW:
Epson WorkForce Pro Series, Epson WorkForce Enterprise Series, HP OfficeJet Pro Series, HP OfficeJet Enterprise Series, HP PageWide Series, Canon MAXIFY Series, Ricoh Aficio Series and Brother INKvestment Series.

Want to view more actual printouts? Please contact your sales managers or send email to info@ggimage.com.