Are you tired of spending a fortune on printer ink? Do you want to save money without compromising the quality of your prints? Look no further than
compatible ink
! In this blog post, we'll explain why
GGimage
's compatible ink is the best choice for your printing needs. From cost-effective pricing to high-quality results, there are countless reasons why you should switch to compatible ink today. Don't settle for overpriced branded cartridges; read on to discover how compatible ink can revolutionize your printing game.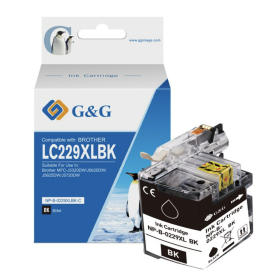 Features and Advantages of Compatible Ink
There are many reasons to choose compatible ink for your printing needs. Here are just a few of the features and advantages that make compatible ink the best choice:
1. Cost savings: Compatible ink is typically much less expensive than original equipment manufacturer (OEM) ink. This can help you save money on your printing costs, especially if you do a lot of printing.
2. Increased compatibility: Compatible ink is designed to be compatible with a wider range of printers than OEM ink. This means that you're more likely to find compatible ink that will work with your printer, even if it's not the same brand.
3. Better print quality: In many cases, compatible ink can provide better print quality than OEM ink. This is because compatible ink is often formulated to provide better color reproduction and darker blacks.
4. More environmentally friendly: Many compatible inks are made with recycled materials, which helps reduce your impact on the environment.
Benefits of Compatible Ink for Businesses
If you're running a business, saving money is always a top priority. That's why compatible ink is the best choice for your printing needs. Not only is it significantly cheaper than original equipment manufacturer (OEM) ink, but it also offers a number of other benefits.
1. Compatibility: One of the biggest benefits of compatible ink is that it's compatible with a wide range of printers. Whether you have an older model or the latest and greatest, there's a good chance that there's a compatible ink cartridge available for your printer. This means that you don't have to worry about buying a new printer every time you need new ink cartridges.
2. Reliability: Another big benefit of compatible ink cartridges is that they're just as reliable as OEM cartridges. In fact, many compatible brands actually use some of the same parts as the OEMs. This means that you can expect the same quality prints from your compatible ink cartridge as you would from an OEM cartridge.
3. Environmental friendliness: When you choose compatible ink cartridges, you're also being friendly to the environment. That's because most compatible brands use recycled materials in their cartridges. This helps reduce waste and keep unwanted materials out of landfills.
Conclusion
In conclusion, compatible ink is the best choice for your printing needs. It offers quality prints at a fraction of the cost of original cartridges and lasts just as long as them too. With its wide selection, you are sure to find the right compatible cartridge for your printer in no time. So why not make the switch from expensive originals to GGimage's compatibles today?