At
G&G
, we believe in providing innovative, high-quality, and sustainable printing solutions that respect the Intellectual Property Rights (IPRs) of the Original Equipment Manufacturers (OEMs). Since our inception in 2000, we have been working tirelessly to offer alternative choices for consumers of printing supplies. Our commitment to delivering an exceptional printing experience has made G&G a trusted brand in the industry.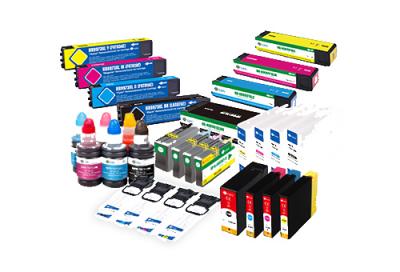 Reliability and Performance
When it comes to
office ink
, reliability is key. With G&G office ink, you can trust that your printer will consistently deliver sharp, crisp text and vibrant colors. Our replacement ink bottle for Epson T504120-AL, G&G No.: NPR-ET504BK, is specifically designed to provide smooth, stable, and flawless inks. Whether you're printing documents for a crucial meeting or vibrant marketing materials, G&G office ink ensures consistent quality every time.
Affordability and Simplicity
We understand that budgetary constraints are always a consideration in any office setup. That's why G&G office ink offers affordable pricing without compromising on quality. Our aim is to make printing solutions accessible to everyone, without straining your wallet. With G&G, you can enjoy great value for money, making it an excellent choice for businesses of all sizes.
In addition to affordability, we prioritize simplicity in our products. Our office ink bottles are designed for easy installation and hassle-free usage, allowing you to focus on your work rather than struggling with complicated ink cartridges. G&G office ink is user-friendly, ensuring a seamless printing experience for everyone.
Commitment to Sustainability
G&G is more than just a brand; we have a vision to create a better future for all. We are dedicated to sustainability, constantly striving to reduce our environmental impact. We believe in responsible manufacturing processes and promote the use of recyclable materials. By choosing G&G office ink, you are not only getting a quality product but also contributing to a greener planet.
Conclusion
At G&G, we are committed to helping you realize your dreams. Our goal is to be the ultimate dream place to work, where your talents are valued, and innovation is encouraged. With G&G office ink, you are choosing a reliable, affordable, and sustainable printing solution that will consistently deliver exceptional results. As Thanksgiving Day approaches, we would like to express our gratitude for your support. Thank you for choosing G&G as your trusted printing partner. We look forward to continuing to serve you and provide the best office ink solutions in the industry.