At
GGimage
, we take pride in our commitment to delivering top-notch printing solutions, and our range of
compatible ink cartridges for Epson
is a testament to our dedication to quality. We understand the importance of finding the perfect fit for your Epson printer, and that's why we offer a seamless and hassle-free experience that maintains the integrity of your print jobs. Let's explore how GGimage's Epson compatible ink cartridges can enhance your printing process.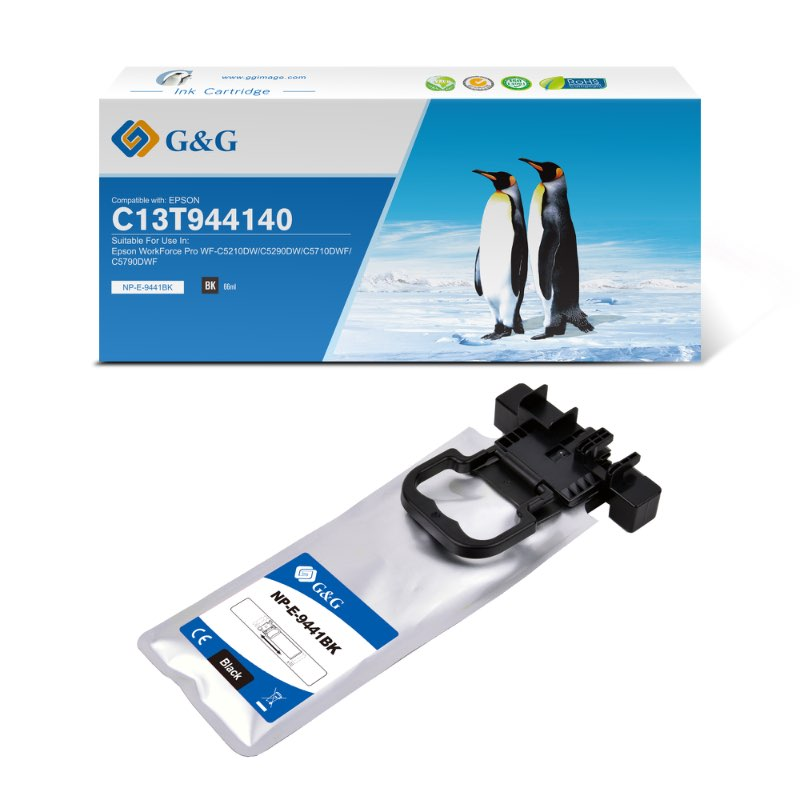 The Epson C13T944140 Series
Our standout product, the Epson C13T944140 series, is designed with businesses in mind, seeking perfect print quality and increased productivity. These business cartridges come equipped with a chip that ensures seamless compatibility and hassle-free installation in Epson WorkForce Pro models, including the WF-C5210DW, C5290DW, C5710DWF, and C5790DWF. With an impressive paper yield of 3,000 pages and a wide range of black ink colors, these cartridges consistently deliver professional-grade prints.
GGimage's Commitment to Quality and Sustainability
At GGimage, we are not only dedicated to quality but also to a greener environment. Our commitment to sustainability is evident in our efforts to reduce our carbon footprint by utilizing solar energy and water recycling in our manufacturing process. Furthermore, our commitment extends to a circular economy, where we remanufacture used toners and cartridges through our closed-loop recycling program. This approach ensures that your printing needs are met while contributing to a sustainable ecosystem.
Enhancing Your Printing Experience
With over two decades of experience, GGimage has become a global brand known for innovation, reliability, and customer satisfaction. Our compatible cartridges for Epson not only guarantee exceptional printing results but also provide cost savings without compromising quality. We understand the significance of trust in the supplier-customer relationship and are committed to earning that trust through ethical, respectful, and honest practices.
The Power of Epson Inkjet Printer Inks
Epson inkjet printer inks have long been known for their exceptional quality and reliability. Whether you're printing vibrant photos or crisp text documents, Epson inks consistently deliver impressive results. Our compatible Epson C13T944140 ink cartridges are specifically designed to work seamlessly with Epson WorkForce Pro WF-C5210DW, C5290DW, C5710DWF, and C5790DWF printers. These cartridges come with a seamlessly integrated chip that ensures the best possible print performance.
Conclusion
In conclusion, GGimage's dedication to quality and sustainability shines through in our compatible ink cartridges for Epson. With our Epson C13T944140 series, you can expect unparalleled print quality and increased productivity. Moreover, our commitment to the environment and the circular economy ensures that your printing needs are met while contributing to a sustainable future. Trust GGimage to enhance your printing experience, as we have done for more than 200 million satisfied end-users worldwide. Choose GGimage for reliable and reputable printing solutions. Unleash the potential of your Epson printer with GGimage's compatible ink cartridges for Epson.