Hey there, fellow print enthusiasts! I'm excited to introduce you to the amazing world of
G&G
and our revolutionary
portable pocket printer
. As a premium global brand, G&G is dedicated to providing cost-effective one-stop print solutions and delivering quality customer experiences through continuous innovation. With over 200 million satisfied end-users and consumers worldwide, we take pride in being the go-to choice for all your printing needs.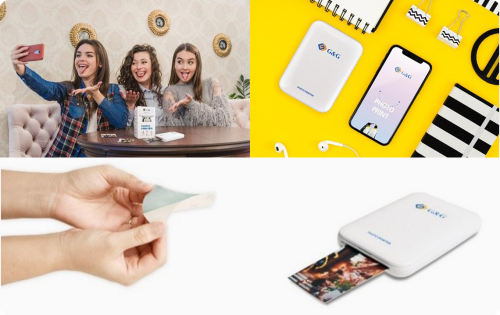 Introduction to G&G
Let me take you on a journey through our story. It all began in 2000 when G&G set out to provide consumers with innovative, high-quality alternative printing supplies that respected the Intellectual Property Rights (IPRs) of the Original Equipment Manufacturers (OEMs). Fast forward to today, and we continue to deliver a top-notch printing experience with affordable, simple, reliable, efficient, and sustainable products and services.
Our commitment to excellence is reflected in our brand value proposition. At G&G, we devote ourselves to delivering a unique and excellent printing experience through continuous research and development (R&D) and innovation. We understand the importance of earning your trust, which is why we strive to be a supplier you can respect and rely on. We listen to your needs, support you every step of the way, and always deliver products and services that exceed your expectations ethically, respectfully, and honestly.
But that's not all. G&G is also passionate about environmental sustainability. Many wonder if the "Gs" in our name stand for "Going Green," and while it's not the case, we are committed to reducing our carbon footprint. We actively use solar power, recycle water used in production, plant trees in desert regions, and remanufacture a wide range of used toner and ink cartridges through our close-the-loop recycling program. When you choose G&G, you're not only getting exceptional print quality but also contributing to a greener planet.
G&G's portable pocket printer
Now, let's dive into the star of the show – our portable pocket printer. Imagine being able to print your photos wherever you go, instantly capturing and preserving those precious moments spent with loved ones. With the G&G GO, our pocket-sized mini printer, this becomes a reality. It's compact, lightweight, and designed for ultimate convenience. Simply connect it to your smartphone via Bluetooth using our user-friendly G&G GO App, and you're ready to print on the go.
But wait, there's more! Our inkless, stickable photo paper allows you to turn your pictures into creative stickers. Decorate your walls, stick them into an album, or create personalized gifts for your friends and family. The possibilities are endless, and the fun is guaranteed.
And here's a mind-blowing feature – you can bring your videos back to life with the G&G GO. Print a single image from a video using our printer, then scan that picture with your phone, and watch the magic happen as the video plays right before your eyes. It's like having a mini movie theater in the palm of your hand!
Conclusion
So, whether you're a photography enthusiast, a traveler, or someone who loves capturing and sharing memories, the G&G GO portable pocket printer is your perfect companion. Experience the joy of instant printing, unleash your creativity with stickable photo paper, and bring your videos to life like never before.
Join us on this exciting journey as we continue to deliver the best images for millions. Stay tuned for more updates, tips, and tricks from G&G – your trusted partner in printing excellence.