At
GGimage
, we take immense pride in our range of digital
textile inks
, designed to elevate your fabric printing experience to new heights. Our textile inks are renowned for their exceptional performance and compatibility with a wide range of printers, including Epson, Ricoh, and Konica. In this article, we'll delve into the remarkable features of our textile inks, with a special focus on our game-changing dispersing inks.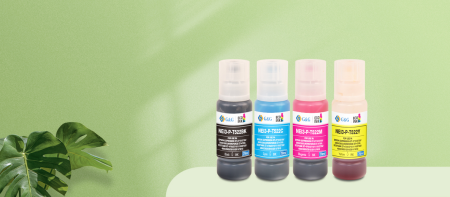 Unmatched Compatibility for Effortless Integration
At GGimage, we understand the importance of seamless integration into your existing print setup. Our textile inks are highly compatible with a variety of printheads, ensuring that, regardless of your equipment, you can effortlessly incorporate our inks into your workflow. This compatibility saves you time and effort, making your printing process smoother and more efficient.
The Remarkable Features of GGimage Textile Inks
Our textile inks offer a plethora of features that set them apart from the competition:
Creating a Strong Physical Bond: GGimage inks establish a robust physical bond with fabric fibers, allowing you to print on a wide array of materials, including natural fibers like cotton and synthetic blends. Your patterns will adhere beautifully, maintaining durable vibrancy over time.
Simplicity and Sustainability: We prioritize sustainability in today's world. Our printing process is energy-efficient, reducing waste and water consumption. GGimage textile inks are a perfect fit for eco-friendly practices, ensuring that your creations are not only stunning but also environmentally responsible.
Vibrant Colors: When it comes to color, GGimage textile inks don't compromise. You can expect sharp, vibrant colors and a wide color gamut that will make your designs stand out and captivate your audience.
Environmental Compliance
GGimage is committed to upholding environmentally friendly standards. Our textile inks meet stringent compliance requirements, including REACH and RoHS, giving you peace of mind that your creations are both beautiful and eco-conscious.
Unrivaled Quality in Dispersing Inks
Our dispersing inks are more than just inks; they represent innovation and quality at its best:
Superior Lightfastness: Bid farewell to faded prints. GGimage's dispersing inks offer exceptional lightfastness, ensuring that your artwork remains vibrant even when displayed outdoors.

High Penetration, High Color Density: Experience unparalleled depth and intensity in your printing. Our inks penetrate fabrics with excellent color fixation, making your designs truly pop.

Perfectly Smooth Printing: No more worries about clogged printheads or workflow interruptions. GGimage's dispersing inks are designed for smooth, high-speed printing, ensuring that your creative process remains uninterrupted.
Conclusion
In conclusion, GGimage textile inks are the ultimate choice for fabric printing enthusiasts. Our inks are not only compatible and efficient but also environmentally conscious. With a focus on innovation and quality, our dispersing inks pave the way for a new era of convenience in fabric printing. Trust GGimage for vibrant, durable, and eco-friendly textile inks that will elevate your creations to new heights.