At
G&G
, we are proud to offer our customers a range of office ink solutions that not only deliver high-quality prints but also significantly improve work efficiency. With our commitment to the environment and innovative technology, we provide
business inkjet
cartridges that are compatible with a wide range of printers, including Canon BCI-301 BK. Our products ensure a flawless, hassle-free printing experience while reducing our carbon footprint.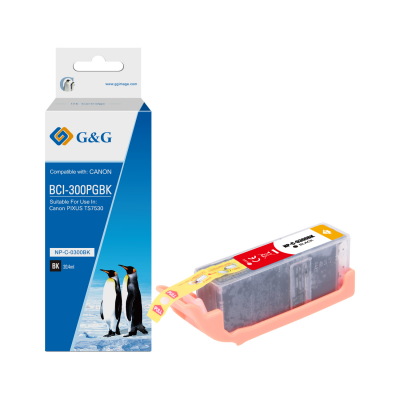 Enhanced Productivity and Cost Savings
Using office ink from G&G can greatly enhance productivity in any work environment. The compatibility of our replacement inkjet cartridges allows for seamless integration with the popular Canon BCI-301 BK. This compatibility ensures uninterrupted printing, minimizing downtime and increasing overall efficiency.
In addition to improved productivity, G&G's office ink brings substantial cost savings to businesses. Our compatible ink cartridges are competitively priced, offering an excellent products. With G&G, businesses can reduce their printing expenses without compromising on quality, enabling them to allocate their budgets more efficiently.
Exceptional Print Quality and Performance
Our office ink products are engineered to deliver exceptional print quality and performance. The G&G replacement inkjet cartridges for Canon BCI-301 BK produce sharp, vibrant black prints that meet the highest industry standards. Whether it's important documents, marketing materials, or presentations, our office ink ensures professional-looking prints every time.
Furthermore, our ink cartridges are designed to be IP-safe, guaranteeing compatibility with a wide range of business inkjet printers. This versatility provides businesses with the flexibility to use G&G office ink across their printer fleet, streamlining procurement processes and reducing the need for multiple ink suppliers.
Eco-Friendly and Sustainable Solution
At G&G, we prioritize sustainability in every aspect of our business. Our office ink cartridges are manufactured using environmentally-friendly practices, such as utilizing solar power and recycling water in our production processes. Additionally, we actively contribute to reforestation efforts by planting trees in desert regions.
Furthermore, G&G's close-the-loop recycling program allows us to remanufacture used toner and ink cartridges, reducing waste and conserving valuable resources. By choosing G&G office ink, businesses can align their printing needs with their commitment to environmental responsibility, making a positive impact on the planet.
Conclusion
In summary, G&G's office ink solutions provide businesses with a range of benefits that improve work efficiency. From enhanced productivity and cost savings to exceptional print quality and performance, our business inkjet cartridges offer an excellent alternative to OEM products. Furthermore, our commitment to sustainability ensures that businesses can make eco-friendly choices without sacrificing quality. With G&G office ink, businesses can optimize their printing processes and contribute to a greener environment. Choose G&G for superior office ink solutions that deliver results.