In the realm of textile printing, every detail counts. From the richness of colors to the durability of prints, your fabric creations should leave a lasting impression.
G&G
's
textile inks
are your gateway to a world of vibrant possibilities, where your designs come to life with unparalleled brilliance.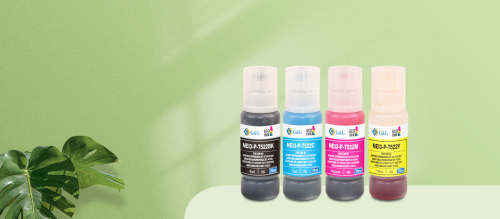 Unveiling Disperse Inks: A Game Changer for Fabric Printing
G&G's digital textile inks, specifically disperse inks, are engineered to revolutionize the way you print on synthetic fabrics. Gone are the days of cumbersome transfer processes; with G&G, you can print directly onto synthetic fabrics, notably polyester, unlocking a new era of convenience and creativity.
The Power of Compatibility: Ink That Adapts to Your Needs
Our disperse inks are highly compatible with a range of printheads, including Epson DX5, DX7, 5113, 4720, i3200, S3200, Kyocera KJ4B, Starfire 1024, Konica 1024, and Ricoh Gen5. This versatility ensures that, no matter your printing setup, G&G's textile inks seamlessly integrate into your workflow.
Features That Define Excellence
Our disperse inks are more than just ink; they are a testament to innovation and quality. Here's what sets them apart:
Superior Light Fastness: Say goodbye to fading prints. G&G's textile inks offer exceptional light fastness, ensuring that your creations remain vibrant even in outdoor display situations.
High Penetration, High Color Density: Experience prints with unparalleled depth and intensity. Our inks penetrate the fabric for outstanding color fixation, making your designs pop.
Flawless Printing Fluency: No more printhead clogs or interruptions. G&G's textile inks are designed for smooth, high-speed printing, ensuring your workflow remains uninterrupted.
Environmentally Friendly: We take our commitment to the environment seriously. G&G's textile inks meet stringent compliance standards, including REACH and RoHS, ensuring your creations are as eco-friendly as they are stunning.
The Printing Process: From Imagination to Reality
Creating with G&G's textile inks is a seamless journey:
Fabric Pre-Treatment: Prepare your fabric for printing, ensuring optimal results.

Diect Printing: Watch your designs come to life as you print directly onto synthetic fabrics.

Dry Heat or Steam: Set your designs with dry heat or steam, ensuring long-lasting brilliance.

Washing: Give your creations the care they deserve with a gentle wash.

Drying: Complete the process by allowing your prints to dry, ready to showcase to the world.
Endless Applications: Where Creativity Knows No Bounds
G&G's textile inks open doors to a multitude of applications:
Carpets: Design unique, eye-catching carpets that redefine spaces.
Fashion: Create fashion-forward clothing that's a true reflection of your style.
Flags and Banners: Make a statement with flags and banners that capture attention.
Interior Decoration: Transform interiors with custom décor that leaves a lasting impression.
Conclusion
With G&G's textile inks, your creative vision knows no bounds. Elevate your fabric creations to new heights of vibrancy, durability, and eco-friendliness. Experience the future of textile printing with G&G, where every design becomes a masterpiece.