In the fast-paced digital age, the value of tangible memories cannot be overstated. While smartphones and cameras have made it easier than ever to capture moments, there's something uniquely charming about holding a physical photograph in your hand. Enter
G&G
's
Inkless Pocket Printer
, a portable marvel designed to bridge the gap between the digital and physical worlds of photography. Let's explore how this innovative device is transforming the way we cherish our memories.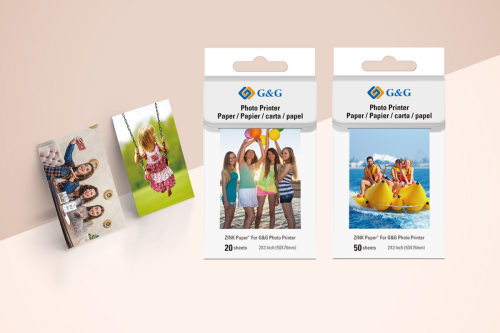 Introducing the Inkless Pocket Printer
In an era where we have come to rely on screens for most of our visual experiences, G&G's Inkless Pocket Printer emerges as a refreshing departure from the norm. This compact and lightweight printer, designed with convenience in mind, allows you to bring your digital photos to life without the need for ink or toner.
Effortless Connectivity and Instant Gratification
One of the standout features of G&G's Inkless Pocket Printer is its seamless connectivity to your smartphone. Through the user-friendly G&G GO App, you can effortlessly print photos, labels, and more directly from your device. Whether you're at a family gathering, a scenic outdoor adventure, or simply capturing everyday moments, this pocket printer ensures that you can hold those memories in your hands instantly.
Inkless Magic: How It Works
Traditional printers rely on ink cartridges or toners, which can be messy, expensive, and prone to running dry at the most inconvenient times. G&G's Inkless Pocket Printer employs cutting-edge thermal printing technology that requires no ink or ribbons. Instead, it uses heat to create vivid and durable prints on a special type of thermal paper. This innovation not only saves you the hassle of dealing with ink replacements but also contributes to a more sustainable and eco-friendly printing solution.
Beyond Photos: Labeling and Creativity Unleashed
While printing photos on the go is undeniably convenient, G&G's Inkless Pocket Printer offers even more versatility. It's not limited to images; you can also print labels, tags, to-do lists, and more. Whether you're organizing your workspace, labeling your belongings, or adding a personal touch to gifts, the possibilities are endless.
Conclusion: Preserving Memories, One Print at a Time
G&G's Inkless Pocket Printer is more than just a gadget; it's a gateway to preserving memories in a tangible and meaningful way. In a world where digital content can feel fleeting, this pocket-sized wonder brings back the joy of creating physical keepsakes. Whether you're printing photos to share with loved ones or labeling items to stay organized, G&G's Inkless Pocket Printer puts the power of creativity and instant gratification in your hands. It's a testament to how technology can enhance, rather than replace, the beauty of cherished moments.