On July 21, Ninestar's "Patent Talk" webinar—the second episode in the "Walk the Talk" series—revealed how Ninestar delivers peace of mind to its customers through its self-developed, patented solutions.
"Color Talk", the first episode in the series, was also well attended as buyers, distributors, partners and customers seek innovative technologies to secure and build their businesses.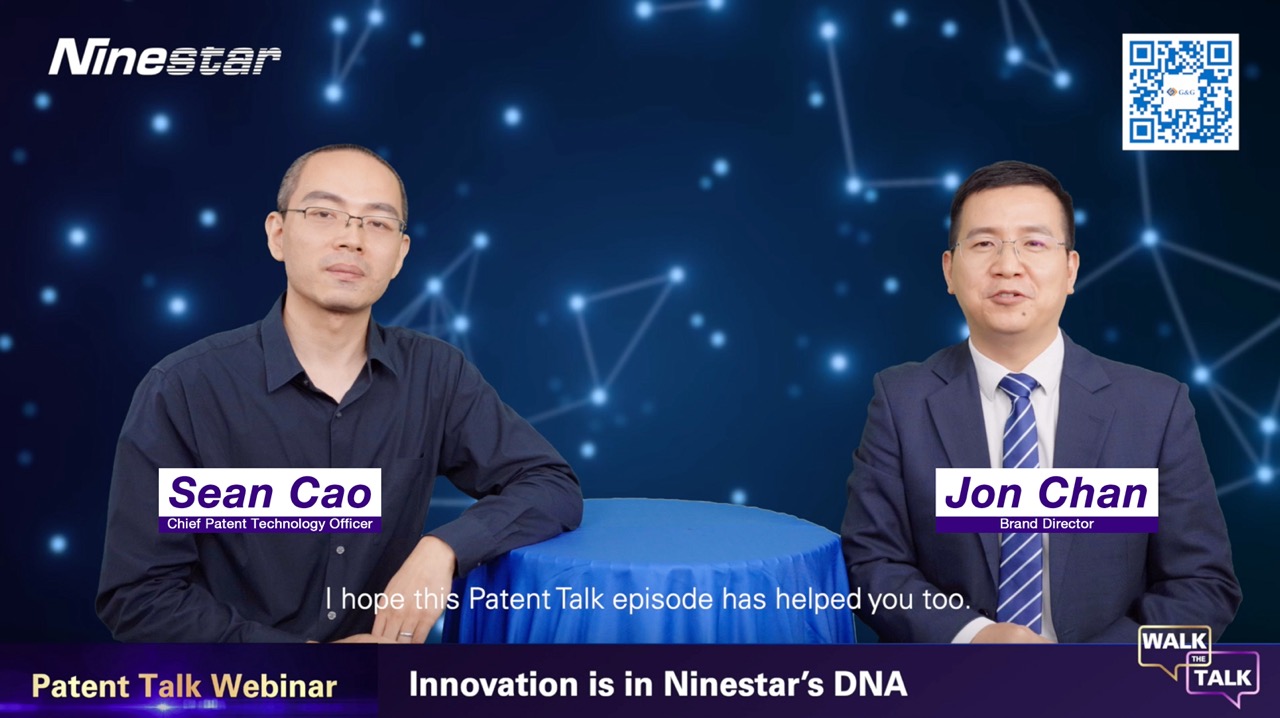 The 15-minutes "Patent-Talk" webinar was hosted by Jon Chan, G&G Branding Director. At the beginning of the presentation, Chan noted that some manufacturers of third-party supplies have been hurt or frustrated after being confronted by a spate of legal actions over the years. On these matters, he interviewed Sean Cao, Ninestar's Senior R&D Director and Chief Patent Technology Officer.
"I'm confident that Ninestar will not be impacted by the woes facing many compatible manufacturers," said Cao."Right from the beginning, Ninestar has been heavily investing in the research and development of its own patented solutions."
Cao added that Ninestar continues to respect those who have developed their own patents and resolves to not infringe those patents nor the intellectual property rights of others.
"Our work in patent research and product development commences at the very beginning and is completed long before Ninestar's compatible version is released to market."
Through the schematic drawings of Ninestar product designs, Cao demonstrated how Ninestar continues to operate in the "shadow of the OEMs" by using its own innovative technologies. To illustrate his point, Cao showed some Ninestar innovative solutions that reveal its excellence in design and technology patents.
According to Cao, Ninestar has developed the ability to help its customers to capture local markets without compromising quality or being legally vulnerable. "Ninestar's customers can feel secure and safe knowing all procedures are solidly put in place every time a new product is researched and developed—something it has been doing for 22 years now." he highlighted.
To know more about Ninestar's innovative solutions and explore how products can get to market so quickly, click https://www.ggimage.com/zh-en/About_Us/walk_the_talk/ to watch the Patent Talk Webinar.
For more information or to suggest a "Walk the Talk" webinar topic, please contact marketing_center@ggimage.com.