G&G
is a high-end international brand that offers affordable one-stop print solutions and consistently innovates to provide excellent customer experiences. Globally, G&G's professional printing solutions and gold standard consumables benefit over 200 million end users and customers. In the fast-paced world of business, efficiency and quality are key. We understand the importance of reliable printing solutions that can keep up with your demands. That's why we offer a wide range of
business inkjet
products that are specifically designed to meet the needs of modern businesses.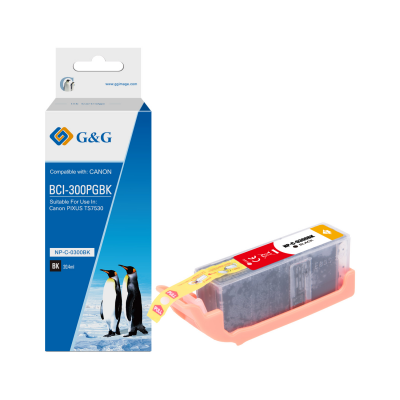 Compatible Ink Cartridges for a Flawless Printing Experience
When it comes to printing, compatibility is crucial. G&G understands the importance of providing inkjet cartridges that are specifically designed to work seamlessly with your printer. That's why our business inkjet cartridges are fully compatible with Canon BCI-300 PGBK, ensuring a flawless printing experience every time.
With G&G's compatible ink cartridges, you can say goodbye to the frustration of dealing with cartridges that don't fit properly or produce subpar print quality. Our cartridges are meticulously engineered to match the performance and specifications of the original equipment manufacturer (OEM) cartridges, guaranteeing optimal results. Our cartridges are not only designed to fit seamlessly into your printer but also deliver outstanding print quality, rivaling that of OEM cartridges.
IP-Safe Products for Secure Printing
The security of your business documents is of utmost importance, which is why G&G offers ink cartridges that are IP-safe. Our compatible ink cartridges are carefully formulated to meet the highest industry standards, providing you with peace of mind knowing that your confidential information remains protected.
Replacement Inkjet Cartridges for Canon BCI-300 PGBK
Specifically, our G&G No.: NP-C-0300BK(PG) ink cartridges are ideal replacements for the Canon BCI-300 PGBK. These compatible cartridges are meticulously crafted to match the performance and quality of the original equipment manufacturer (OEM) cartridges. With G&G, you can enjoy the same exceptional printing results at a more affordable price point.
Conclusion
In conclusion, G&G is the go-to choice for businesses seeking efficient and high-quality business inkjet solutions. Our compatible ink cartridges are not only easy to use but also provide exceptional print quality. With IP-safe products and comprehensive compatibility, we ensure a hassle-free printing experience for all our customers. Whether you're printing important reports, marketing materials, or everyday documents, G&G business inkjet cartridges will meet and exceed your expectations. So, why settle for anything less when you can rely on G&G's business inkjet cartridges to bring efficiency and quality to your printing needs? Experience the difference with G&G and take your printing to new heights. Invest in our compatible ink cartridges today and elevate your business printing experience. Remember, at G&G, we've got your inkjet needs covered.