In today's fast-paced world, your creativity knows no bounds, and
G&G
understands the need for a portable printing solution that complements your on-the-go lifestyle. Meet the G&G
Portable Pocket Printer
– a compact powerhouse designed to redefine the way you print, wherever inspiration strikes. With impressive specifications and innovative features, this pocket-sized marvel is set to elevate your printing experience and unlock a world of possibilities.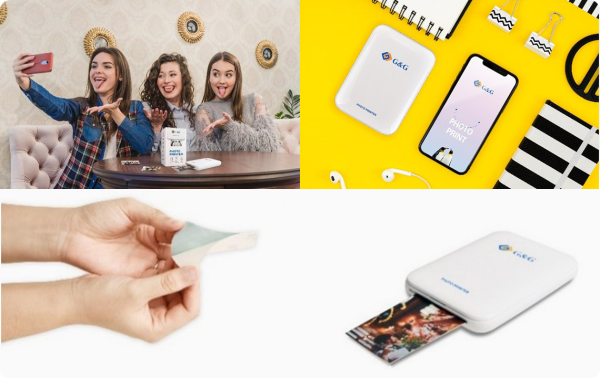 A Pocket-Sized Marvel
The G&G Portable Pocket Printer may be small in size, but it's big on performance. Measuring just 4.65 inches in length, 3.35 inches in width, and 0.79 inches in height, this sleek and lightweight device is designed with your mobility in mind. Weighing a mere 5.4 ounces, it effortlessly slips into your bag or pocket, ensuring it's always within reach for your travels, work, or creative endeavors.
Seamless Connectivity
In a world where connectivity is king, the G&G Portable Pocket Printer reigns supreme. Equipped with Bluetooth 4.2 technology, it ensures swift and stable connections with your iOS or Android devices. Whether you're printing photos, labels, or notes, you can do it wirelessly and with ease. Say goodbye to the hassle of tangled cables and hello to uninterrupted creativity.
Printing Innovation at Your Fingertips
At the heart of this compact marvel lies ZINK™ (Zero Ink) print technology, a game-changer that eliminates the need for traditional ink cartridges or ribbons. Instead, it harnesses the power of heat to activate specially designed paper embedded with color crystals. The result? Crisp and vibrant prints with an impressive resolution of 314 x 600 dpi, ensuring your photos and labels are a true reflection of your creativity.
Swift Charging for Uninterrupted Inspiration
With a 550 mAh Li-Polymer battery, the Portable Pocket Printer is engineered to keep pace with your dynamic lifestyle. Charging to full capacity in just around 90 minutes, it ensures you're always ready to print on the fly. Whether you're at a coffee shop, a client meeting, or a family gathering, you can count on this printer to deliver when inspiration strikes.
Tailored Printing for Your Unique Needs
In the world of printing, versatility is paramount, and G&G's Portable Pocket Printer delivers. It supports custom media sizes of 2 x 3 inches (50 x 76 mm), giving you the flexibility to print photos, labels, and notes that cater perfectly to your requirements. It's a versatile tool that seamlessly adapts to both personal and professional use.
Conclusion: Your Creative Companion On the Go
In a realm where creativity knows no bounds, the G&G Portable Pocket Printer emerges as your trusted companion. With its compact form, wireless connectivity, and cutting-edge printing technology, it's the ideal tool for those who demand high-quality printing wherever inspiration strikes. Whether you're capturing memories through photos or staying organized with customized labels, this pocket-sized marvel is primed to elevate your printing experience, one masterpiece at a time. Say hello to hassle-free, high-quality printing, courtesy of G&G.