G&G
is a leading brand in the printing industry, dedicated to manufacturing high-quality toner cartridges. Our products are designed to deliver exceptional print quality and reliable performance. With our
hp laser printer toner
, you can expect crisp, clear prints every time. We understand the frustration that comes with encountering issues while using your hp laser printer toner. At G&G, we strive to provide the best solutions for your printing needs. In this article, we will introduce some helpful tips that will assist you in effectively using the hp laser printer toner.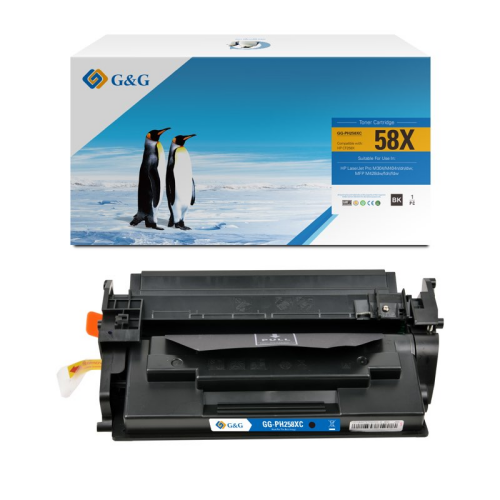 Blank Printouts
If you encounter blank printouts, there are a few things you can check. Firstly, ensure that the sealing tape on the toner cartridge has been completely removed. This tape serves as a protective covering during transportation and must be pulled out before use. If it is not removed, the toner powder cannot flow properly, leading to blank printouts. Secondly, make sure that the laser door inside the printer is open. If this door remains closed, the laser beam cannot reach the OPC (Organic Photoconductor) drum, resulting in no discharge of toner powder.
Additionally, a broken OPC shutter door can prevent the transfer of the image from the OPC drum to the paper, causing blank printouts. To resolve these issues, check the sealing tape and ensure that the laser door is open. If you notice any damage to the OPC shutter door, consider replacing the toner cartridge.
Periodic Lines or Points on Printout
If you notice periodic lines or points on your printouts, it could be due to extraneous impurities. These impurities can cause interruptions in the printing process, resulting in uneven lines or dots on the output. To resolve this issue, try placing the toner cartridge with the opening section facing downwards. This positioning allows any extraneous impurities to drop out, ensuring cleaner prints without periodic lines or points. Additionally, regularly cleaning the printer's internal components, such as the drum and rollers, can help prevent the buildup of debris and minimize the occurrence of these print quality issues.
Conclusion
In conclusion, the hp laser printer toner by G&G offers high-quality printing solutions for your HP LaserJet Pro M304/M404n/dn/dw and MFP M428dw/fdn/fdw printers. By following the troubleshooting tips discussed above, you can overcome common issues such as blank printouts and periodic lines or points on your printouts. We hope that these tips prove helpful in resolving any problems you may encounter.
Thank you for choosing G&G as your trusted printing partner. As Thanksgiving Day approaches, we would like to express our gratitude for your continued support. We are thankful for the opportunity to serve you and meet your printing needs. Wishing you a joyful and blessed holiday season. Remember, for all your printing needs, choose G&G hp laser printer toner for exceptional results. With our dedication to quality and reliable performance, we are confident that you will be satisfied with our products.