As a leading global brand in the printing industry,
G&G
has been dedicated to providing cost-effective one-stop print solutions and delivering quality customer experiences through continuous innovation. With over 200 million satisfied end-users and consumers worldwide, our commitment to excellence is unwavering. Today, we want to introduce you to our latest innovation, the G&G GO – a
portable pocket printer
that is set to revolutionize the way you print.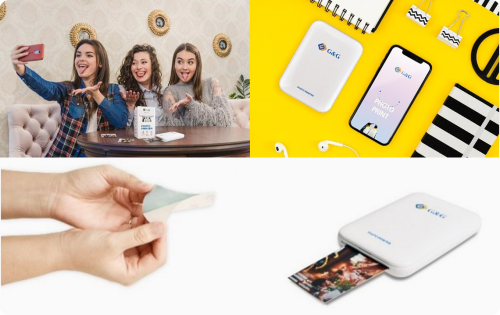 Specifications of our product
The G&G GO is powered by an internal rechargeable battery with a charging speed of approximately 90 minutes for a full charge. Its compact dimensions of 4.65" (L) x 3.35" (W) x 0.79" (H) make it easy to carry around, weighing only 5.4 oz (153.5g). It connects seamlessly via Bluetooth 4.2 and is compatible with iOS 9.0 or above and Android 5.0 or above. With ZINK™ print technology and a print resolution of 314 x 600 dpi, you can expect stunning, high-quality prints every time. The media size is custom, measuring 2 x 3 inches (50 x 76 mm).
At G&G, we understand that quality lies in the details. That's why we collaborate with world-class raw materials suppliers and set high standards for each component used in our cartridges. Our materials engineers analyze all raw materials in the lab, ensuring perfect compatibility and functionality before they reach the production lines.
We take pride in our smarter manufacturing processes, investing heavily in automated production lines to meet your demands for consistent, stable, high-quality, and cost-effective products. With the integration of robots and smart manufacturing technologies, we ensure efficiency and effectiveness at every step.
Bnefits of G&G GO
Printing with the G&G GO is a breeze. Simply connect your smartphone or tablet to the printer via Bluetooth and use the G&G GO App to select the files you want to print. The app offers a user-friendly interface with various customization options, allowing you to adjust print settings, choose paper sizes, and even apply filters or effects to your photos. With just a few taps, you can bring your digital content to life in physical form.
In addition to its printing capabilities, the G&G GO also functions as a scanner. You can capture documents, receipts, or important notes on the go. Simply place the document on a flat surface, use the G&G GO App to activate the scanner mode, and let the printer do the rest. The scanned files can be saved as PDFs or images directly to your device for easy organization and sharing.
At G&G, we prioritize and environmental responsibility. The G&G GO is designed with energy-efficient components and materials that minimize its carbon footprint. The printer's internal rechargeable battery has a long-lasting capacity, allowing you to print multiple documents or photos on a single charge. Additionally, the thermal paper used in the printer is recyclable, reducing waste and promoting eco-friendly practices.
Conclusion
In conclusion, the G&G GO is the ultimate portable pocket printer that combines convenience, quality, and innovation. With its compact size, wireless connectivity, and versatile printing capabilities, it is the perfect companion for professionals, students, and anyone who values on-the-go printing. Experience the freedom of portable printing with the G&G GO and discover a new level of convenience in your daily life. Trust G&G to deliver cutting-edge print solutions that meet your needs and exceed your expectations.