When it comes to finding replacement toner cartridges for your HP printer, look no further than
G&G
. G&G is a reputable brand that offers affordable, high-quality
hp printer toner cartridge
s while respecting the intellectual property rights of the printer OEMs. With G&G, you can enjoy superior printing performance without compromising on sustainability.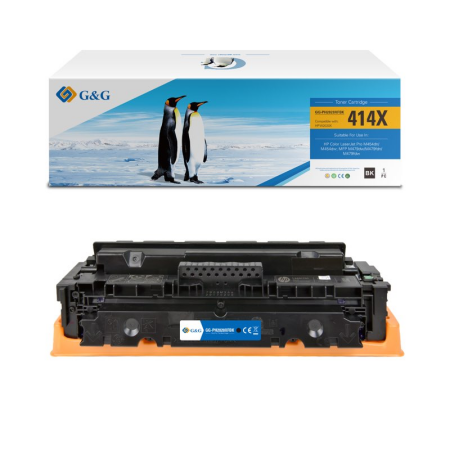 Premium Quality Toner Cartridges for HP Printers
G&G hp printer toner cartridges are designed to deliver exceptional print quality, whether you're printing documents or graphics. With their black color and high page yield of 7500, these cartridges ensure efficient and reliable printing with every use. Say goodbye to blurry images and faded prints - G&G toner cartridges guarantee professional results.
Compatible with HP Color LaserJet Pro Series
Our G&G toner cartridges are fully compatible with a range of HP printers, including the Color LaserJet Pro M454dn, M454dw, MFP M479dw, M479fdn, and M479fdw models. This wide compatibility ensures you can easily find the right cartridge for your specific printer model, allowing you to continue printing without any hassle.
Going Green with G&G
At G&G, we take our commitment to the environment seriously. We understand the importance of reducing our carbon footprint and have implemented various eco-friendly practices. Many often wonder if the "Gs" in our name stand for "Going Green" - while it's not the case, we can see why people make that connection. Here are some of the ways we contribute to a greener planet:
1. Solar Power: G&G utilizes solar power to reduce our reliance on traditional energy sources. By harnessing the power of the sun, we can significantly decrease our carbon emissions.
2. Water Recycling: We believe in conserving water and have implemented a water recycling system in our production processes. This allows us to recycle and reuse water, minimizing wastage.
3. Tree Plantation: G&G contributes to reforestation efforts by planting trees in desert regions. By greening areas that are typically barren, we strive to restore balance to the ecosystem and combat deforestation.
4. Toner Cartridge Recycling: Through our close-the-loop recycling program, we remanufacture a wide range of used toner and ink cartridges. This helps reduce electronic waste and promotes a circular economy in the printing industry.
Conclusion
When it comes to finding affordable and reliable toner cartridges for your HP printer, G&G is the brand to trust. With their premium quality, wide compatibility, and commitment to the environment, G&G hp printer toner cartridges offer everything you need for superior printing performance. Make the switch to G&G today and experience the perfect blend of quality, affordability, and sustainability.