At
G&G
, we understand that every print matters. Whether it's a crucial business document, a stunning photograph, or a vibrant marketing material, the quality of your prints speaks volumes about your professionalism and attention to detail. That's why we've made it our mission to redefine your printing experience with our
G&G Toner
Cartridges. Join us on a journey where quality, innovation, and sustainability converge to create a printing experience like no other.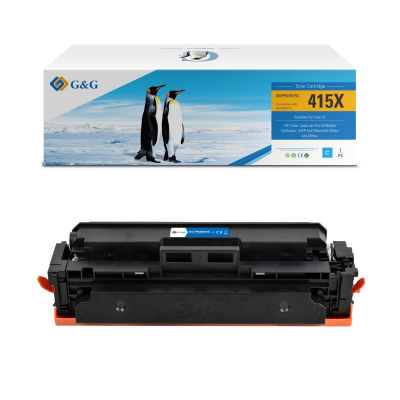 Precision in Production: The G&G Advantage
When it comes to delivering consistently high-quality toner cartridges, G&G stands head and shoulders above the competition. We've taken precision to the next level by deploying more hybrid automated production lines for our "patent-safe" products than any other third-party supplier. What does this mean for you? It means that every G&G toner cartridge is crafted with unmatched accuracy, resulting in superior print performance.
Our advanced production processes not only ensure top-notch quality but also make our products more affordable. By reducing the margin for human error, we pass on the cost savings to our customers. When you choose G&G, you're not just getting a toner cartridge; you're getting a commitment to excellence.
The Science of Great Color: It's More Than Just Toner
While toner quality is undeniably crucial for achieving great color, it's not the sole determining factor. At G&G, we understand that the perfect match of all components plays a critical role in delivering exceptional color results. That's why we take a comprehensive approach to quality assurance.
Each G&G toner cartridge undergoes rigorous testing, not just for the toner itself but for every individual part and component. From the precision of our drums to the integrity of our inks, we leave no stone unturned. This meticulous attention to detail ensures that when you print with a G&G cartridge, you're getting more than just good color—you're getting great color.
Sustainability: Our Commitment to the Planet
At G&G, our commitment to excellence goes hand in hand with our commitment to the environment. We insist on using non-toxic, safe toners and inks that have a lower impact on the planet. Our cartridges are manufactured in ISO 9001-certified facilities, ensuring that every step of the production process adheres to strict quality and environmental standards.
Conclusion
In the world of printing, where every detail matters, choose a partner that shares your commitment to excellence and sustainability. Choose G&G Toner Cartridges, where quality meets innovation, and every print is a masterpiece. Elevate your printing experience with us and discover the difference that precision, comprehensive quality assurance, and environmental responsibility can make. It's time to expect more from your toner cartridges—it's time for G&G.