At
ggimage
, we understand the significance of quality printing solutions. As a premium global brand, we pride ourselves on delivering exceptional products that cater to the diverse needs of our customers. In this article, we'll delve into the benefits of using
HP compatible toner
cartridges from ggimage, highlighting their compatibility, efficiency, and commitment to sustainability.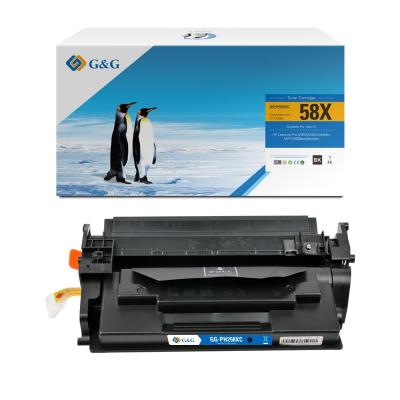 The Advantages of HP Compatible Toner by ggimage:
When it comes to reliable printing solutions, ggimage has earned its reputation for delivering high-quality products. Our HP compatible toner cartridges are no exception. Here's why they stand out:
1. Unmatched Compatibility:
Our compatible toner cartridges, such as the NT-CH258X, are designed to seamlessly work with HP LaserJet Pro printers, including models like M304, M404n/dn/dw, and MFP M428dw/fdn/fdw. This ensures a hassle-free installation process and optimal performance, just like using original HP cartridges.
2. Exceptional Print Quality:
We understand that print quality matters. Our HP compatible toner cartridges deliver sharp and professional monochrome prints, making them ideal for both business and personal use. Say goodbye to compromised quality and hello to documents that truly make an impact.
3. Cost-Efficiency and Eco-Friendliness:
At ggimage, we believe in providing cost-effective solutions that align with environmental consciousness. Our compatible toner cartridges not only help you save on printing costs but also contribute to our "Going Green" initiative. We actively reduce our carbon footprint through eco-friendly practices such as using solar power and recycling water in production.
Exploring ggimage: A Brand Committed to Excellence:
4. A Legacy of Innovation:
Since our inception in 2000, ggimage has been at the forefront of innovation in the printing industry. We have consistently offered alternative, high-quality solutions that respect Intellectual Property Rights (IPRs) while providing customers with top-notch printing experiences.
5. Trust and Reliability:
Our logo, symbolizing tightly clasped hands, embodies the trust and reliability we build with our customers. Just as the emperor penguin represents determination, ggimage is committed to overcoming challenges and fostering a sustainable environment. This commitment is reflected in our products and services.
Conclusion
When it comes to efficient and eco-friendly printing solutions, ggimage's HP compatible toner cartridges offer the best of both worlds. Our dedication to quality, compatibility, and sustainability sets us apart in the industry. Join us in enhancing your printing experience while making a positive impact on the environment. Trust ggimage for all your printing needs – we're here to deliver excellence, every step of the way.