In the ever-evolving world of business, efficiency and versatility are key to staying ahead.
GGimage
's
Handheld Inkjet Printer
s offer a revolutionary solution for coding and labeling tasks in your business, stores, factories, and warehouses. These portable, lightweight, and convenient devices empower you to save time and eliminate manual labeling errors with ease. Whether you're marking packages, envelopes, signs, or products, GGimage's handheld inkjet printers are the perfect mobile and portable solution.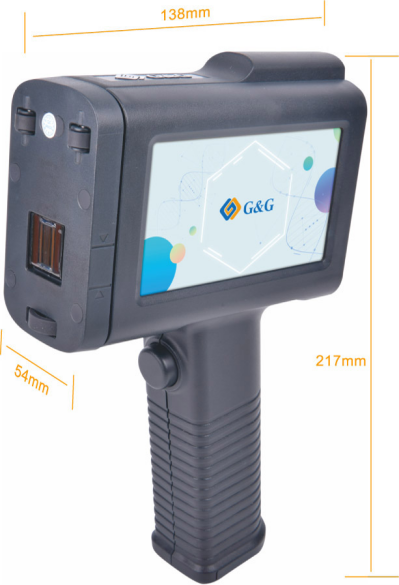 Print on a Variety of Surfaces
GGimage's Handheld Inkjet Printers provide the flexibility to print text, numbers, symbols, QR codes, barcodes, and other data on multiple surfaces. With the right ink for your specific requirements, you can confidently label a wide range of materials, enhancing your labeling capabilities and streamlining your workflow.
Professional Inks and Colors
Experience outstanding professional monochrome (black), white, and color printing with GGimage's fast-drying cartridges. These handheld printers are available in seven waterproof colors, including black and white ink, ensuring your labels maintain their integrity even in challenging environments.
Exceptional Printing Features
GGimage's Handheld Inkjet Printers come equipped with a range of exceptional features:
Graphics, logos, date, time, QR codes, barcodes, consecutive numbers, and more can be printed with extreme precision.

Impressive print speeds of up to 60 meters per minute at 300 dpi ensure fast and clear marking of your products or documents.

High-definition (HD) print quality of up to 600 dpi guarantees sharp, professional, and crystal-clear prints.

The user-friendly 4.3-inch color touchscreen interface simplifies operation, allowing you to customize your prints with ease.

Multi-language support (11 languages) ensures that you can communicate effectively with a global audience.
Efficiency Redefined
At GGimage, we understand the value of efficiency in business operations. Our Handheld Inkjet Printers have been meticulously engineered to streamline your coding and labeling tasks. The user-friendly interface and ergonomic design enable quick and accurate marking, eliminating the need for laborious manual labeling. Precision and professionalism are at the forefront of our design philosophy, ensuring that your codes, labels, and markings are consistently accurate and reflect the high standards of your business.
Adaptability for Versatile Applications
The dynamic business landscape demands versatility, and GGimage's Handheld Inkjet Printers are up to the challenge. These devices seamlessly adapt to a myriad of applications, whether you're marking retail products, adding batch details for quality control, or labeling freight logistics. With GGimage, you no longer need multiple machines; one handheld printer serves all your coding and labeling needs.
Conclusion
GGimage's Handheld Inkjet Printers redefine efficiency and versatility in coding and labeling tasks. Whether you operate a business, store, factory, or warehouse, our portable and lightweight printers are the ultimate mobile solution. Experience accuracy in every print, exceptional features, and adaptability across various applications. With GGimage, you're not just getting a printer; you're gaining a powerful tool that elevates your productivity and professionalism. Choose GGimage for coding and labeling solutions that keep you ahead in the dynamic world of business.