When it comes to printing, the quality of ink can make all the difference. At
G&G
, we understand the importance of delivering top-notch ink solutions that exceed your expectations. Our commitment to quality is woven into every stage of our process, from research and development to manufacturing. Discover how
G&G ink
solutions can transform your printing experience.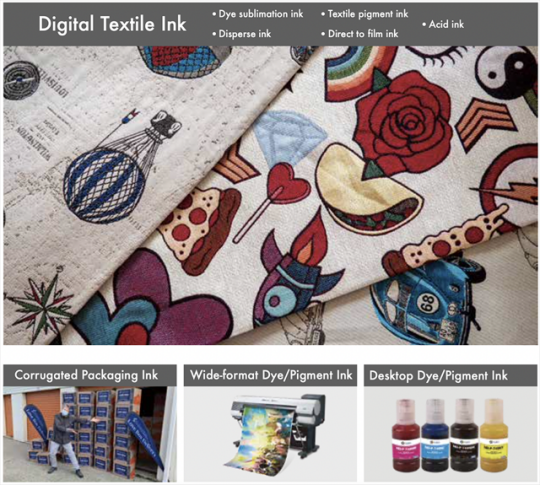 Quality Ink, Trusted by Industry Leaders
At G&G, we take pride in delivering ink solutions that you can rely on. Our dedication to quality begins with robust research and development efforts. We invest in cutting-edge technologies and collaborate with global partners to ensure our ink formulations meet the highest standards. When you choose G&G, you choose quality.
A Diverse Range of Ink Solutions
G&G offers a wide spectrum of premium-quality digital printing inkjet inks, tailored to suit your unique requirements:
Textile Inks: Ideal for textile printing, our inks create vibrant and long-lasting prints on various fabric types.
2. Corrugated Packaging Inks: Our inks are designed to meet the demands of the packaging industry, providing sharp and durable prints.
3.Wide-Format Dye/Pigment Inks: For wide-format printing, G&G offers dye and pigment inks that deliver exceptional color accuracy and consistency.
Desktop Printer Inks: Whether for home or office use, our desktop printer inks ensure crisp and reliable prints every time.
Over Two Decades of Expertise
With a history spanning over 22 years in ink formulation, G&G stands as an authority in the wide format printing industry. Our expertise is the result of:
State-of-the-Art Facilities: We operate cutting-edge facilities and uphold stringent quality assurance standards.

Global Partnerships: Our rich heritage of global partnerships provides us with unparalleled technological expertise.

Dedicated R&D Team: With over 40 university-qualified R&D engineers and scientists, we continue to push the boundaries of ink technology.

Continuous Investment: We invest significantly in equipment maintenance and upgrades, ensuring that our ink solutions are always at the forefront of innovation.
Conclusion
In conclusion, G&G's ink solutions are not just about ink; they're about elevating your printing experience. With a commitment to quality, a diverse range of ink options, and over two decades of expertise, G&G is your one-stop digital solution for all your printing needs. Choose G&G for unmatched quality and reliability in every print.