When it comes to finding a reliable supplier for your printing needs, trust is of utmost importance. At
G&G
, we understand the significance of earning your trust. Our commitment is to treat you with the utmost respect, providing exceptional products and services that enhance your print experience. With our
hp photosmart ink
for HP Photosmart printers, such as the C8771E model, we aim to deliver a trustworthy solution to meet your printing requirements.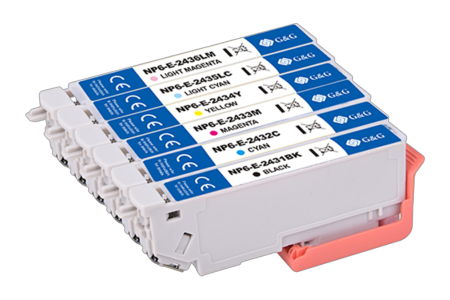 Remanufactured Ink Cartridges for HP C8771E
Our G&G No.: NH-RC8771E/C, compatible with the OEM No.: C8771E, offers an exceptional printing experience without compromising on quality. These hp photosmart ink undergo a rigorous process to ensure they meet industry standards and deliver optimal performance.
At G&G, we take pride in our remanufacturing process. Each cartridge is carefully cleaned, inspected, and refilled with premium quality ink. Our team of experts ensures that the cartridges are sealed properly, preventing any leaks or mess during installation. We also conduct tests to guarantee that the ink cartridges perform flawlessly, resulting in vibrant prints that rival the original cartridges.
High Page Yields and Ink Capacity
With a page yield of up to 400 pages, our HP Photosmart ink cartridges provide excellent value for money. Whether you require prints for personal use or professional purposes, our high-capacity cartridges will help you achieve consistent and reliable results, allowing you to focus on what matters most. We understand the importance of uninterrupted printing, so we ensure that our cartridges have sufficient ink capacity to meet your needs. With G&G ink cartridges, you can print with confidence, knowing that you won't run out of ink in the middle of an important task.
Commitment to Ethical, Respectful, and Honest Service
At G&G, our commitment extends beyond providing superior products. We understand the importance of serving customers ethically, respectfully, and honestly. When you choose G&G, you can be confident that our team will listen to your needs, provide exemplary support, and go the extra mile to ensure your satisfaction.
We believe in building long-lasting relationships with our customers. That's why we prioritize transparency in everything we do. We provide detailed information about our remanufacturing process and the quality of our hp photosmart ink. We strive to address any concerns or queries promptly, ensuring that you have a smooth and hassle-free experience with G&G. Our dedication to ethical business practices sets us apart from the competition, and we are proud to earn your trust through our actions.
Conclusion
In conclusion, G&G is dedicated to earning your trust by offering top-notch hp photosmart ink for HP Photosmart printers. With our NH-RC8771E/C cartridge, compatible with the C8771E model, you can expect high-quality prints and efficient performance. Our commitment to ethical business practices, exceptional customer support, and reliable products make G&G the ideal choice for all your printing needs. Trust us to deliver the ink solutions you need for a superior print experience. Choose G&G for excellence, reliability, and trustworthiness. At G&G, we are here to provide you with the very best print experience, always delivered ethically, respectfully, and honestly.