When it comes to replacing the ink cartridge in your Brother printer, ensuring a smooth and hassle-free process is crucial. At
G&G
, we understand the importance of reliable ink cartridges that deliver sharp text and vibrant colors. Our Replacement Ink Bottle for Brother BTD60BK is specifically designed to provide flawless printing results every time. In this article, we will guide you through the process of
brother printer ink cartridge replacement
, addressing common issues and providing helpful solutions.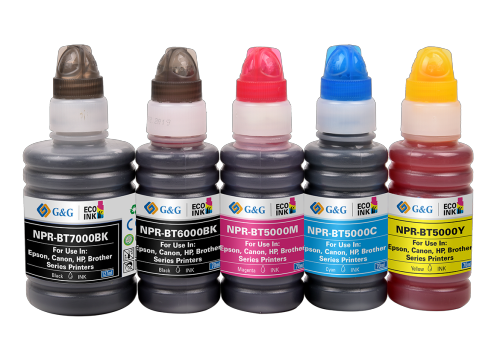 Unable to Print After Installing a New Cartridge
If you're facing difficulties printing after installing a new ink cartridge, there might be a simple solution. Often, users forget to remove the yellow label from the cartridge. This label prevents air from flowing into the cartridge, leading to printing errors. To resolve this, make sure to thoroughly rip off the yellow label before inserting the cartridge. By removing this label, you enable proper airflow and ensure the ink can flow smoothly onto the page, resulting in clear and crisp prints.
Fuzzy Edges on Text or Forms
If you notice fuzzy edges on your printed text or forms, there are several potential causes that you can address:
1. Printing paper humidity: Printing on humid paper can result in smudging and blurred lines. Ensure your printing paper is dry before initiating a print job. If you notice any moisture on the paper, let it dry completely or consider using a different set of dry printing paper specifically designed for optimal print quality. This small adjustment can greatly enhance the clarity of your prints.
2. Wrinkled or uneven printing paper: Uneven surfaces or creases on the printing paper can affect the clarity of your prints. As a solution, replace the potentially wrinkled paper with a fresh, smooth sheet. Smooth printing paper ensures an even distribution of ink and prevents any interference that may result in fuzzy or distorted prints.
3. Dirty print head: Over time, accumulated dirt or debris on the bottom of the print head can compromise the quality of your prints. To address this issue, clean the print head using a recommended cleaning solution or follow the instructions provided in your printer's user manual. By maintaining a clean print head, you ensure that the ink is properly delivered to the paper, resulting in sharp and well-defined prints.
Conclusion
With G&G's Replacement Ink Bottle for Brother BTD60BK, you can enjoy smooth and flawless brother printer ink cartridge replacemen experiences. By following the simple steps outlined in this article, you can easily replace your Brother printer ink cartridge and overcome common printing problems. Remember to remove the yellow label for proper airflow and check for potential issues like humid or wrinkled printing paper and a dirty print head. Trust G&G for reliable printing solutions that deliver sharp text, vibrant colors, and exceptional quality. With our Replacement Ink Bottle, you can be confident in achieving sharp, crisp text and bright, vivid colors with every printout. The brother printer ink cartridge replacemen is not difficult. Don't let these common issues hinder your printing experience - take control with G&G and ensure your Brother printer consistently delivers outstanding results.