Ninestar has been granted approval by the U.S. Customs and Border Patrol (CBP) to sell its redesigned Brother TN-223 and TN-227 toner cartridges in the United States—otherwise known as TN-243 and TN-247 in Europe.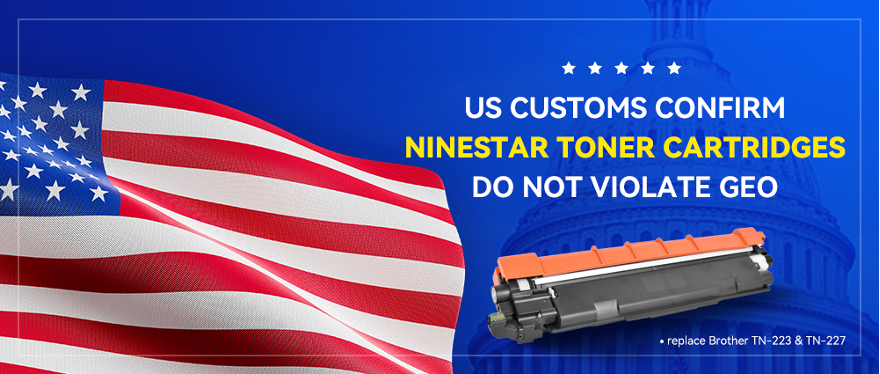 This means Ninestar's workaround cartridges, which have been intentionally redesigned to respect the IP rights of the printer OEM, can be openly marketed, promoted, distributed, and sold in the USA. They are not subject to exclusion from entry based on the general exclusion order (GEO) issued by the U.S. International Trade Commission in Investigation No. 337-TA-1174.
This is not the first time Ninestar has been granted such a ruling on consumables that can be used in Brother printing devices. Earlier, in October 2022, the CBP also issued a ruling after having found certain Ninestar toner cartridges—intentionally designed to replace the Brother TN-730/TN-2410, TN-760/TN-2420, and TN-770/TN-2424—do not infringe the respective Brother patents protected by a GEO.
With consistent investment in IP, R&D, branding, and quality, Ninestar devotes itself to providing customers with its own, unique, patented printing solutions. At the same time these products are "safe" from infringing the patents held by Brother.
Ninestar continues to invest more than 6% of its annual revenue on R&D. With more than 3,000 engineers worldwide, Ninestar leads the aftermarket with 4,885 granted and 1,423 pending patents as of December 31, 2021. The enormous portfolio includes patents in printer technology, chip technology, ink and toner cartridge technology, ink technology and 3D printing.
You are welcome to email Ninestar at info@ggimage.com to learn more about Ninestar's latest, non-infringing solutions for Brother Series.