Ninestar is proud to announce its print consumables laboratory has been certified by the China National Accreditation Service for Conformity Assessment (CNAS) agency. Ninestar is one of only a few aftermarket manufacturers in China that has earned this recognition.
CNAS, one of the most authoritative laboratory accreditation agencies in China, is a national accreditation body approved and established by the National Accreditation Certification Board (CNCA). The certification followed a long investigation period, stringent requirements, and rigorous standards. At the same time, the CNAS is also the accreditation body for the International Laboratory Accreditation Cooperation (ILAC) and Asia-Pacific Laboratory Accreditation Cooperation (APLAC) mutually recognized agreement members. In other words, the test report of CNAS-certificated laboratory will be recognized by the signing of mutual recognition agreement countries and regions.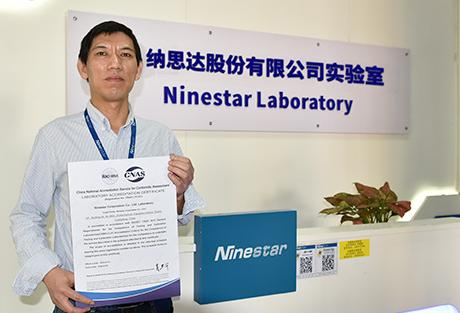 Ni Ming, the Head of Ninestar Print Consumables Laboratory
"The CNAS accreditation reaffirms that Ninestar lab demonstrates the highest testing standards across all Ninestar's products," said Ni Ming, the Head of Ninestar print consumables laboratory. "We want to show our customers that all our lab staff are professional, and the advanced equipment meets world standards. We're fully qualified to carry out a range of tests to make sure high-quality, consistent products are delivered to every consumer."
Ninestar's print consumables lab was established in 2004 to support the R&D, manufacturing, and quality assurance of its print cartridges. Today, the 1500 sqm lab boasts the industry's broadest precise measuring instrumentation and testing equipment thanks to the long-term investment by Ninestar. The lab offers extensive product testing and research analysis capabilities to support customers and assist them in meeting their competitive challenges.
For more information on Ninestar's quality and accreditations, we welcome any enquiries or observations via info@ggimage.com.