At G&G, we believe in pushing boundaries and not setting limits. This mindset is reflected in our innovative products and technologies, including our range of
business ink cartridges
. In this article, we will explore the benefits of using G&G business ink cartridges and how they can empower you to achieve your full potential.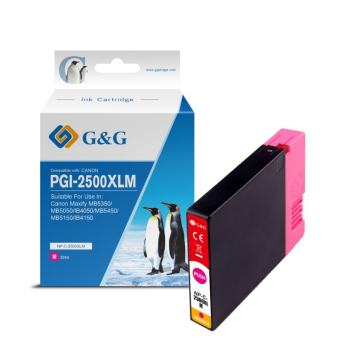 Unmatched Compatibility and Performance
Our business ink cartridges are designed to work seamlessly with a variety of printers, including the Canon PGI-2500XLM series. What's more, it is suitable for use in Canon MAXIFY MB5350/MB5050/IB4050/MB5450/MB5150/IB4150/MB5455. With G&G No.: NP2-C-2500XLM(PG) cartridges, you can experience unmatched compatibility and performance. Our cartridges are built to OEM No.: PGI-2500XLM standards, ensuring optimal functionality and delivering consistent, high-quality prints. Say goodbye to compatibility issues and hello to professional-looking documents.
Global Service Centers for Peace of Mind
At G&G, we value customer satisfaction and prioritize after-sales service. That's why we have established six service centers around the world, with four located in Europe. Whether you need technical support, maintenance kits, or instructional assistance, our dedicated team is here to ensure you enjoy worry-free after-sales service. With G&G, you can have peace of mind knowing that we are always there to support you.
Empowering Your Potential
When you choose G&G business ink cartridges, you are making an investment in more than just superior printing solutions. You are investing in yourself and your ability to achieve greatness. At G&G, we believe that the tools you use directly impact your success, and that includes the quality of your printing output.
By choosing G&G business ink cartridges, you are ensuring that every document, presentation, or marketing material you produce is of the highest quality. Our cartridges are designed to deliver vibrant colors, sharp text, and professional results, allowing you to make a lasting impression in the business world.
Our shared values of not setting limits and embracing boldness extend beyond our products. We foster a culture of continuous learning, diversity, and inclusion, creating an environment where you can tap into your real potential. With G&G, you have the tools and support to achieve whatever you desire.
Conclusion
In conclusion, G&G business ink cartridges offer unmatched compatibility, performance, and after-sales service. By choosing G&G, you not only enhance your printing capabilities, but you also embody our shared values of embracing boldness and realizing your full potential. Experience the difference with G&G and unlock new levels of productivity and satisfaction. Thank you for considering G&G as your trusted partner in business ink cartridges. Together, let's break barriers and achieve greatness.