Are you tired of paying exorbitant prices for printer cartridges? Have you ever considered switching to compatible cartridges?
Compatible cartridge
s offer a more affordable and eco-friendly alternative to original-brand cartridges without compromising on quality. In this article, we will explore the advantages of using compatible cartridges and introduce you to
Ggimage
, a trusted brand in the industry.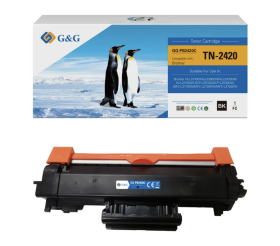 Use a High-Quality Compatible Cartridge for These Benefits
Using premium compatible cartridges with your printer can have a number of benefits, such as:
1. Economical: When compared to cartridges from the original manufacturer, compatible cartridges are frequently less expensive. This indicates that you can reduce your printing expenses without compromising print quality.
2. High-Quality Prints: High-quality compatible cartridges employ top-notch ink or toner, which results in prints that are crystal-clear, razor-sharp, and vivid. In comparison to original-brand cartridges, you won't notice a noticeable change in print quality.
3. Wider Compatibility Range: You can locate a suitable cartridge for your printer more easily since high-quality compatible cartridges are made to function with a variety of printers.
4. Simple to Install: Compatible cartridges typically come with instructions and are simple to install. They are therefore a great option for anyone who like to do their own maintenance and repairs.
5. Environmentally Friendly: Because compatible cartridges may be filled and reused repeatedly, using them decreases the amount of trash produced by empty cartridges. This is a green choice that lessens the negative effects of printing.
Introducing Ggimage
If you are searching for reliable printing supplies and services that are both affordable and sustainable, look no further than GGimage. With their extensive experience in the industry, G&G continues to invest in cutting-edge research and development, modernized production lines, and improved customer service to provide customers all over the world with the best printing materials available.
GGimage is committed to providing high-quality, non-infringing products that meet or exceed industry standards while remaining competitively priced. Their extensive range of products includes replacement laser cartridges, replacement ink cartridges, remanufactured ink cartridges, and remanufactured toner cartridges, all designed to work seamlessly with various printer models. Moreover, GGimage's focus on sustainability ensures that their products are environmentally friendly, making them an excellent choice for eco-conscious consumers.
Conclusion
Choosing compatible cartridges over original brand cartridges can save you a lot of money in the long run without compromising on quality. Ggimage is a trusted brand that offers a wide range of compatible cartridges for various printer models, making it easy for you to switch to more affordable and eco-friendly printing solutions. Make a smart choice today and choose GGI-compatible cartridges for your printing needs.