About Printer
In 2022, HP announced the global availability of its new LaserJet Tank series. Featuring refillable toner design, HP claims that the new devices are "created for entrepreneurs and small business owners looking for reliable, cost-efficient resources in all facets of their business".
The new LaserJet Tank family uses the W1530A* reload kit rated at 2,500 pages and the W1530X reload kit rated at 5,000 pages.

HP LaserJet Tank Printer & Original Toner Reload Kit
G&G Solution

G&G's replacement reload toner kits for used in HP LaserJet Tank series offer lab-tested performance and OEM-comparable, user-friendly printing experience.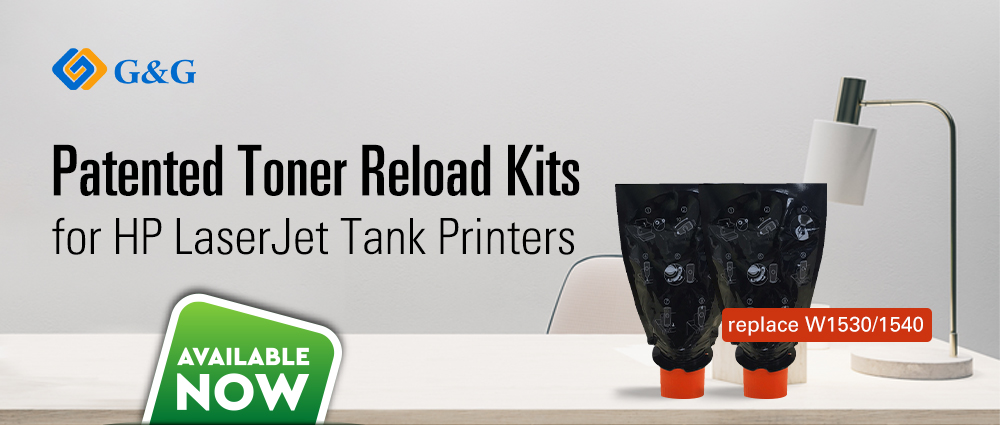 >>Patented toner refilling kit design brings easy, efficient, zero-leak reloading experience
>>Gold-standard printouts guaranteed
>>RoHS compliant
>>Less plastic used, less waste, lower carbon footprint
Product List
OEM Model

G&G Model

Area

OEM Page Yield

G&G Page Yield

For Use In

W1530A

GG-PH1530

NA

2,500

2,500

HP Laser Tank 1504, MFP 1604; 2504, MFP 2604;

W1530X

GG-PH1530X

NA

5,000

5,000

W1540A

GG-PH1540

EMEA/LA/AP

2,500

2,500

HP Laser Tank 1502, MFP1602; 2502, MFP2602;

W1540X

GG-PH1540X

EMEA/LA/AP

5,000

5,000
For more information, please contact your sales manager or send email to info@ggimage.com.
*Please note original product models vary region by region.