As more and more become big fans of online purchasing, e-commerce marketplaces have grabbed hold of this new potential. However, if you want to expand online sales, you must consider the functionality, originality of the products, appearance, transport and storage.
To help you boost sales on the online channels, G&G has introduced the patented, universal refill ink bottles compatible for Epson, Canon and HP ink tank printers.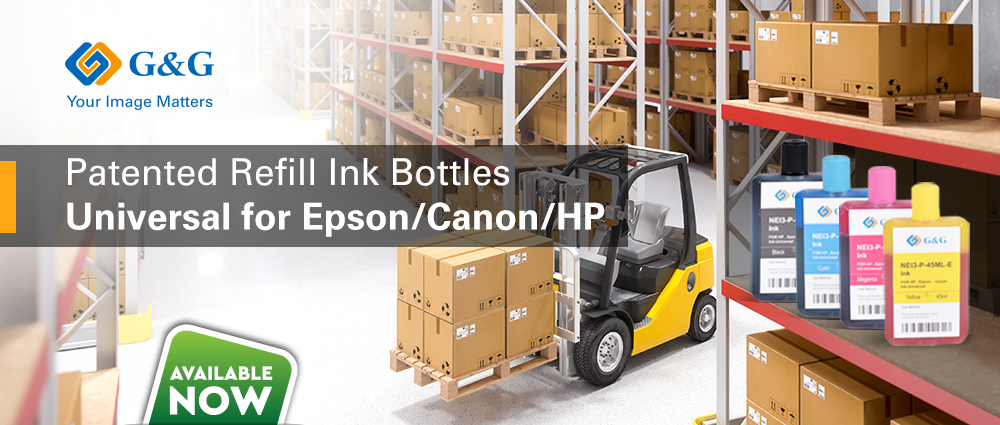 Why the new ink series is ideal for online stores
The square, compact bottle design saves costs for storage and transport
The recently revamped bottles have a square configuration and a 45ml capacity, making them notably more compact than their 70ml counterparts. The weight and size reduction are about 45%. Additionally, the incorporation of a concave hole design at the bottle's center enhances its resistance to compression, ensuring it remains intact during shipping and prevents inadvertent squeezing.
Self-developed patented structure keeps your online listings safe from legal challenges
Worried about the takedowns that occurred in the online marketplace? G&G has you covered. With the broadest patent portfolio in the aftermarket, G&G has researched and self-developed innovative ink solutions that will ensure your business safety.
Automatic ink refilling, leak-proof design, no dirty hands
The patented bottle cap sealing design ensures a worry-free experience because it balances the air pressure inside and outside of the bottle to avoid ink leakage even when the bottle is inverted.
Universal alternative ink bottles and caps, easier to identify colors
The colored bottle caps provide a unique appearance for the new ink series, making it easier for end-users to identify the CMYK colors. It also helps distributors create a differentiated brand image.
Perfectly compatible with:
Epson EcoTank Series:
001/002/003/004/005/006/008/009/101/
102/103/104/105/106/112/113/114/115/
502/504/512/522/524/532/542/544/552/
554/555/TOB/YAD/HAR//MKA/HNA
Canon MegaTank Series:
GI-10/20/30/40/50/60/70/80/90
GI-11/21/31/41/51/61/71/81/91
GI-13/23/43/53/73/83
GI-16/26/46/56/76/86
HP SmartTank Series:
GT51/52/53
30/31/32
For more information or to place an order, please send an email to info@ggimage.com.