The second G&G "Going Green" Ambassador has been announced. Dr Pashmeen Lakhani is a research associate in a highly respected children medical organization in Pakistan—The Pakistan Society of Pediatric Oncology*.
This announcement follows the first Ambassador being appointed in May—Natasha Gonzalez from Chile.
Dr Lakhani will also be provided with high-quality G&G replacement cartridges, for a full year for free, for use in her HP Laserjet PRO MFP M 28W printer. As with Gonzales, she will provide regular reports on the quality, yield and benefits she obtains from using the re-used and remanufactured printing products.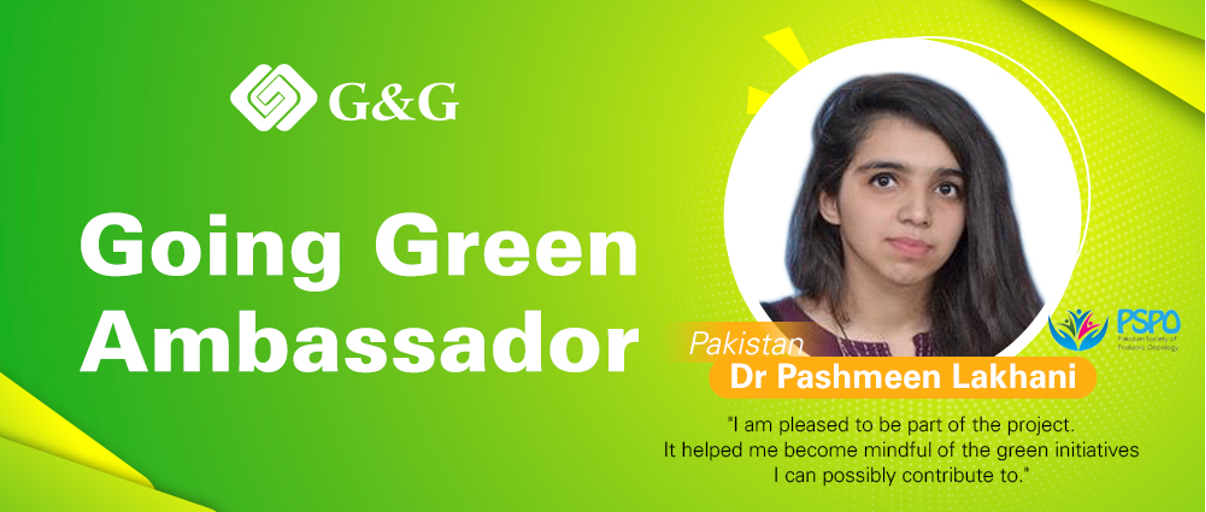 Lakhani said she is passionate about doing her part for the environment. Her daily "green" activities caught the attention of Ninestar executives who judged her deserving as a "Going Green" Ambassador.
To reduce her carbon footprint, Lakhani chooses to ride sharing, and she also purchases environmentally sustainable and recyclable products. Further, she has planted trees that match the local environment resources in the neighborhood and the Urban Forest. Recently, Lakhani attended a "Climate Change and Human Health Responders" course with the intention to promote environmental awareness.
The global search is on for a third G&G "Going Green" Ambassador and any "green thinkers" who believe they eligible, and would like to win a year's free supply of G&G cartridges, should apply by sending an email to info@ggimage.com.
Pakistan Society of Pediatric Oncology* is a not-for-profit, professional organization that relies on time and expertise volunteered by numerous healthcare providers who take care of children with cancer. They aim to increase the chance of survival for these children by improving the care given to them. Since inception, PSPO has embarked on a planned, multi-dimensional strategy for positively changing the outcome of children with cancer in Pakistan.