When it comes to choosing color toner cartridges for your printer, which do you prefer: remanufactured or new build?
Both options have remarkable and entrenched market positions. It is true that new build cartridges are much more cost-effective. The shells and all internal components are brand new, just like the OEM. The time to deliver a compatible, new build cartridge to the market after the OEM launch for new products is much quicker because manufacturers do not rely on the OEM cartridges being used and collected first.
However, if you are a green thinker, you will probably choose reman cartridges to give them a second life, helping them escape landfills, and to contribute to reducing CO2.
So which ones do the color toner cartridge experts choose?
If you are wanting to hear practical advice you should listen to Amy Jia. Amy has decades of experience in color toners and her comments may surprise you.
This week at 16:30 Greenwich Mean Time, May 19, 2022, join the color talk webinar to find out what Ninestar's senior product director of print consumables business unit will have to say.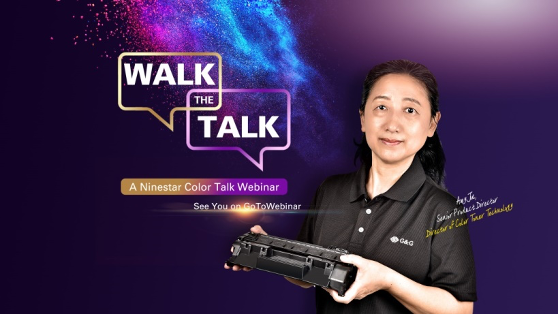 Ninestar will share insights on functional color toner cartridge solutions. The event, called Color Talk, will focus on how to choose reliable color products to win loyalty from users and markets.
Click here to reserve your place now!

Walk the Talk features a series of webinars that leaves no stone unturned in bringing you the latest ideas, innovations, strategies, experiences, and opportunities to thrive in the competitive marketplace.
Color Talk is the first episode of the Walk the Talk series. Stay tuned.