As a premium Ninestar brand, G&G makes an all-out effort to research and develop world-class products. At the same time, it sets standards when it comes to minimizing the impact on the environment … something it has done since it commenced operations in 2000.
Today, G&G invites users around the globe to participate in its Going Green Ambassador activity. There is an opportunity for end-users to win free G&G cartridges for a year. This comes as both an encouragement for their care for the environment and to thank customers for their support. The application process to become a G&G Going Green Ambassador has begun!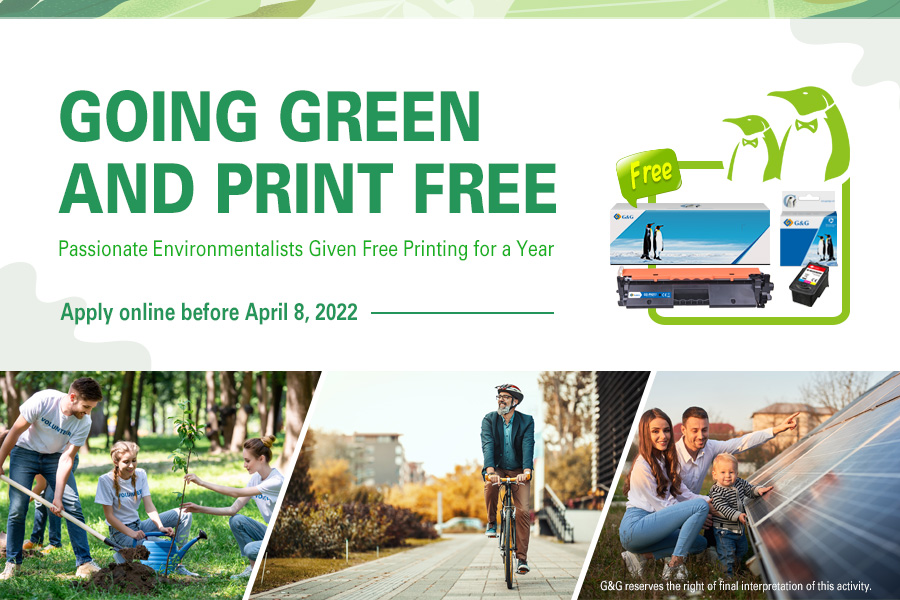 Know more details about the activity, go to: https://www.ggimage.com/Going_Green_and_Print_Free/
Who can be a G&G Going Green Ambassador?
All you're required to do is:
>Take part in low-carbon actions each quarter—by planting trees, and/or reducing the use of plastics, and/or choosing low-carbon transportation options. There are lots of initiatives. There's no limit to what you do or how you do it.
> Submit feedback on your printer cartridge user experience each month.
What're the BENEFITS?
As a Going Green Ambassador, users can enjoy FREE printing using G&G cartridges for one-year and also have access to experience G&G branded, new products for free as well.
How to apply?
Click to https://forms.gle/p3QKrxNpaQgE1wV58 and submit your information for G&G Going Green Ambassador's application.
Is there a deadline?
Apply online before April 8.