With a solid company strength, Ninestar is pleased to announce that in the near future, Ninestar will constantly offer and perfect its product portfolio for use in COPIERS, giving customers a wide choice.
Targeted at medium and large business office, Canon released Canon image Runner Advance C5535 series machine in 2016. Ninestar patented solution for Canon C5535 series machine (Consumables: GPR-55 series toner bottles) Available Now!
Ninestar's Advantages:


1. Patented design
In around 2014, Canon's consumables for copiers undergone a technical change. The previous generation of technology, we called it "the powder nozzle structure", was represented by GPR30, GPR31, GPR36, GPR42 and GPR 43 series toner bottles. Ninestar has already released patented solutions for Canon's "powder nozzle structure" products.
The latest generation of technology that Canon is using, we called it "air pump structure", is represented by GPR51, GPR52, GPR52, GPR55, GPR57 and GPR58 series toner bottles. Ninestar's patented solutions for the OEM's "air pump structure" products AVAILABLE NOW!
2. Same toner supply as the OEM's
As we all know, for copiers' products, it is very important to have the same amount of toner supplied as the OEM's under the equivalent situation. In the latest generation of technology, Canon's powder nozzle is much smaller than the previous generation's. However, Canon solves the toner supply problem by using "air pump structure". How to achieve the same amount of toner supply through such a smaller powder nozzle? It's difficult but Ninestar found a perfect solution to solve this problem——the centrifugal blower structure design.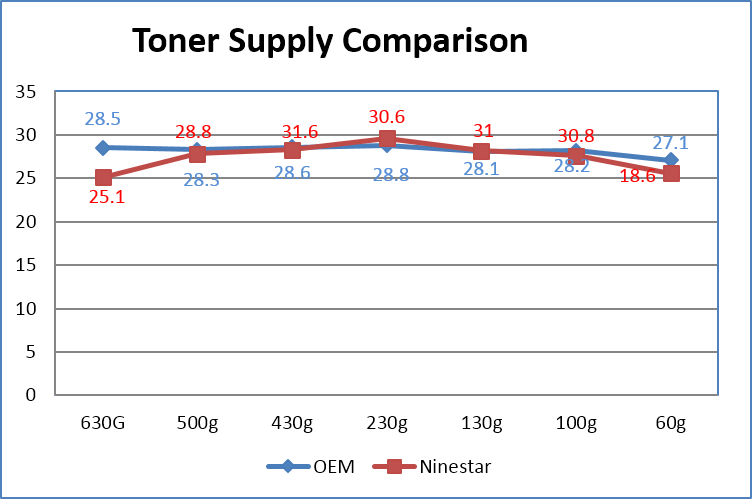 *The Proportion of Toner Supply Amount in Unit Time*
*Above data comes from Ninestar Lab*
We can see that under the equivalent situation, Ninestar's toner supply is almost as good as OEM's.

3. Stable product quality which is verified by MPS software program.
4. Strong chip support from the brother company.
5. Complete product models to satisfy your different demands.
Ninestar Product Information: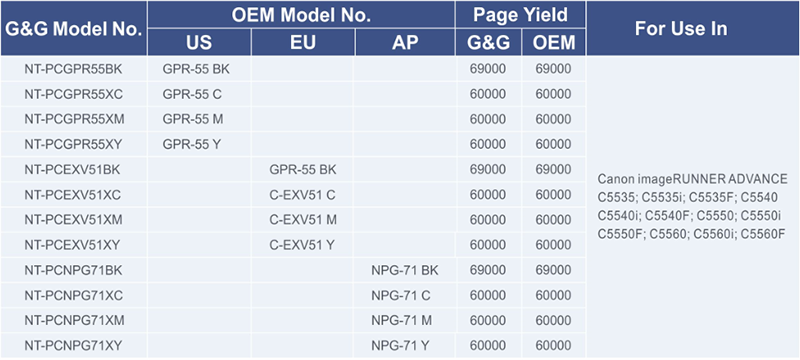 Send email to info@ggimage.com for further product information!