Have you ever encountered this? Your printer stops working after you printed pages to a certain amount, and you are told it is due maintenance and will no longer work until it is serviced.
The problem happened to Mark Tavern's wife according to a media report. He twittered to complain that "his wife's Epson printer had given a message that the printer had reached the end of its service life and ceased printing". Then an expert explained that "it's all about inkpads. Typically, the problem requires draining or the replacement of the waste ink pad and resetting the protection counter."
What is a waste ink pad?
For those desktop inkjet printers, there are inkpads inside that are used to collect the waste ink produced in the cleaning of printhead. When the waste ink is full, the printer will alert or stop working to prevent the device from pollution or damage caused by spilled ink. When it comes to business inkjet printers or wide-format printers, the component sharing the same function is referred to as ink maintenance box. This is because as the printing volume increases, a container is needed to collect the waste ink.
If you don't want to pay high service costs, using a replacement ink maintenance box is a much easier approach to solve the problem.
Want to keep your printer at the best condition with less costs? Choose Ninestar!
Ninestar provides a variety of replacement ink maintenance boxes for use in different business inkjet models that can keep your printer operating all the time.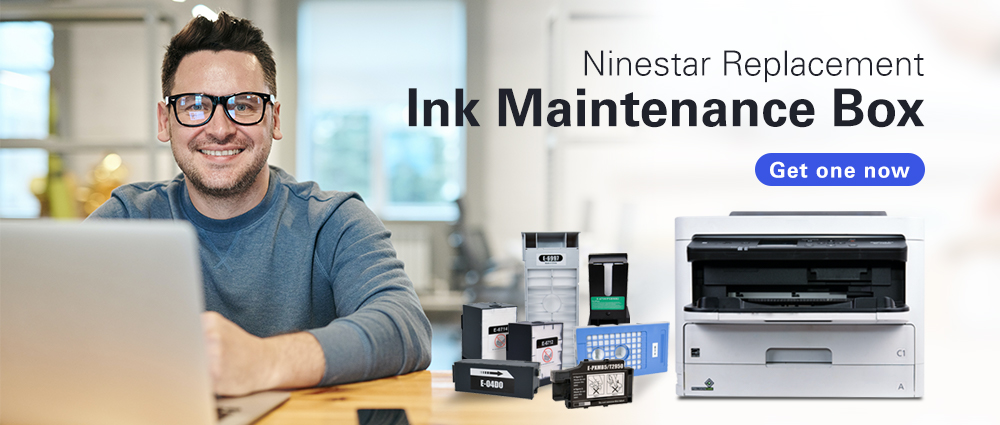 Easy to install, convenient for replacement

Smooth, stable and excellent printing performance

Self-developed smart chips, 100% recognized

Good ink absorption, no ink spilling, no pollution to printer
For more information, please contact your sales manager or send email to info@ggimage.com.