G&G is making its high-end pigment EverBrite ink available to end users in the small office and home printing market. The EverBrite Ink was first developed and became popular in 2017. Now it adds a new ink series-EverBrite Home ink.
This latest EverBrite ink solution has been developed for use in the Epson 405 and 502 series of inkjet printers and provides an ideal choice for those needing durable, versatile, high-quality printing on photo paper or plain paper.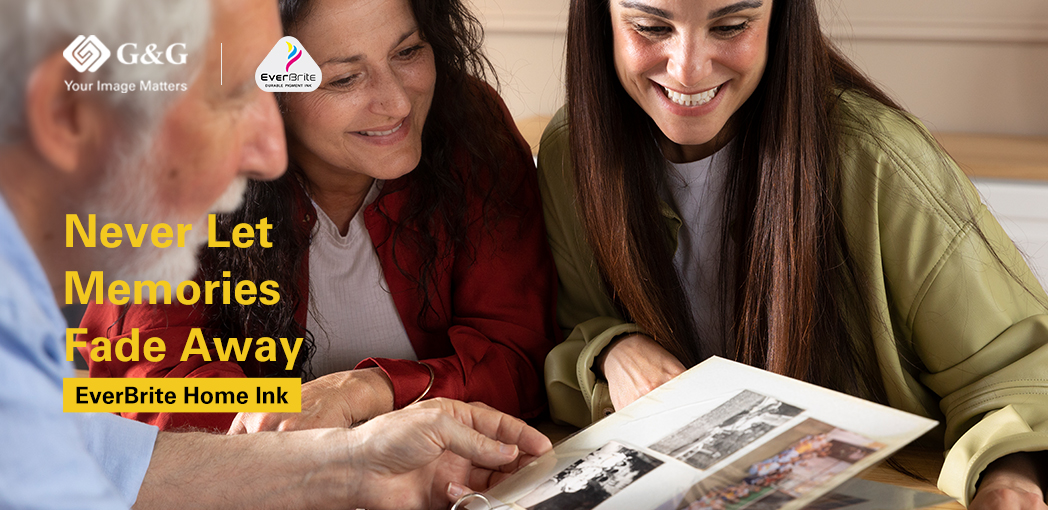 Reasons to choose the excellent EverBrite Home series
Sample tests* reveal the overall color performance of the EverBrite Home ink is close to that of the OEM when printing on glossy photo papers. The colors are vivid, delicate, true-to-life, and highly restored to the original image. Also, the results on plain papers are almost the same as OEM's, so even the fussiest of end-users will detect no differences.

How is it possible EverBrite will not let your memories fade? The key is its excellent performance and durability. The comparison of the simulated UV and ozone resistance tests* reveals the EverBrite Home ink is lightfast and ozone-resistant, with color fading levels close to the OEM.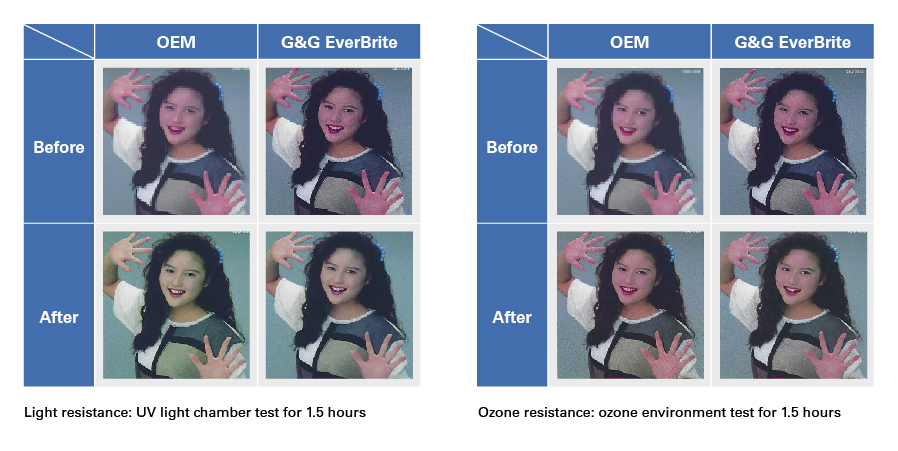 Featuring a nano-level, four-layer filtration process, EverBrite inks allow customers to say goodbye to the clogging of print heads. The newly-developed ink solutions deliver smooth and stable printing, significant cost savings and worry-free after-sales service. More details are available.
Hot-Sale Product List for EverBrite Home Series
OEM Model

G&G Model

Page Yield

Area

For Use In


OEM

G&G

PGI-580

NP3-C-0580XXLBK(PG)/581XXLCMY

600/820/760/824

600/820/760/824

Europe

Canon PIXMA TS6120/TR7520/TR8520/TS8120/TS9120/TS6220/
TS8220/TS9520/TS9521C/TS702/TS6320/TS8320/TR8620

405

NP-R2-0405BKCMY(PG)-A

350/300/300/300

350/300/300/300

Europe

Epson WorkForce Pro WF-3820DWF/3825DWF/4820DWF/
4825DWF/4830DTWF

502

NP-R2-0502XLBK(PG)/XLCMY-A

500/740/740/740

500/740/740/740

Europe

Epson Expression Home XP-5105/5100/5150/5155;
WorkForce WF-2860DWF/2865DWF/2880DWF/2885DWF

603

NP-R2-0603XLBKCMY-A

500/350/350/350

600/400/400/400

Europe

Epson Expression Home XP-2100/2105/2150/2155/3100/
3105/3150/3155/4100/4105/4150/4155;
WorkForce WF-2810/2820DWF/2830/2835/
2840DWF/2845DWF/2850/2870DWF
For further information or order enquiries, please contact your sales manager or send an email to info@ggimage.com.
*The tested cartridge model is Epson 405. The sample sheets are printed on Epson WorkForce Pro WF-3820DWF.