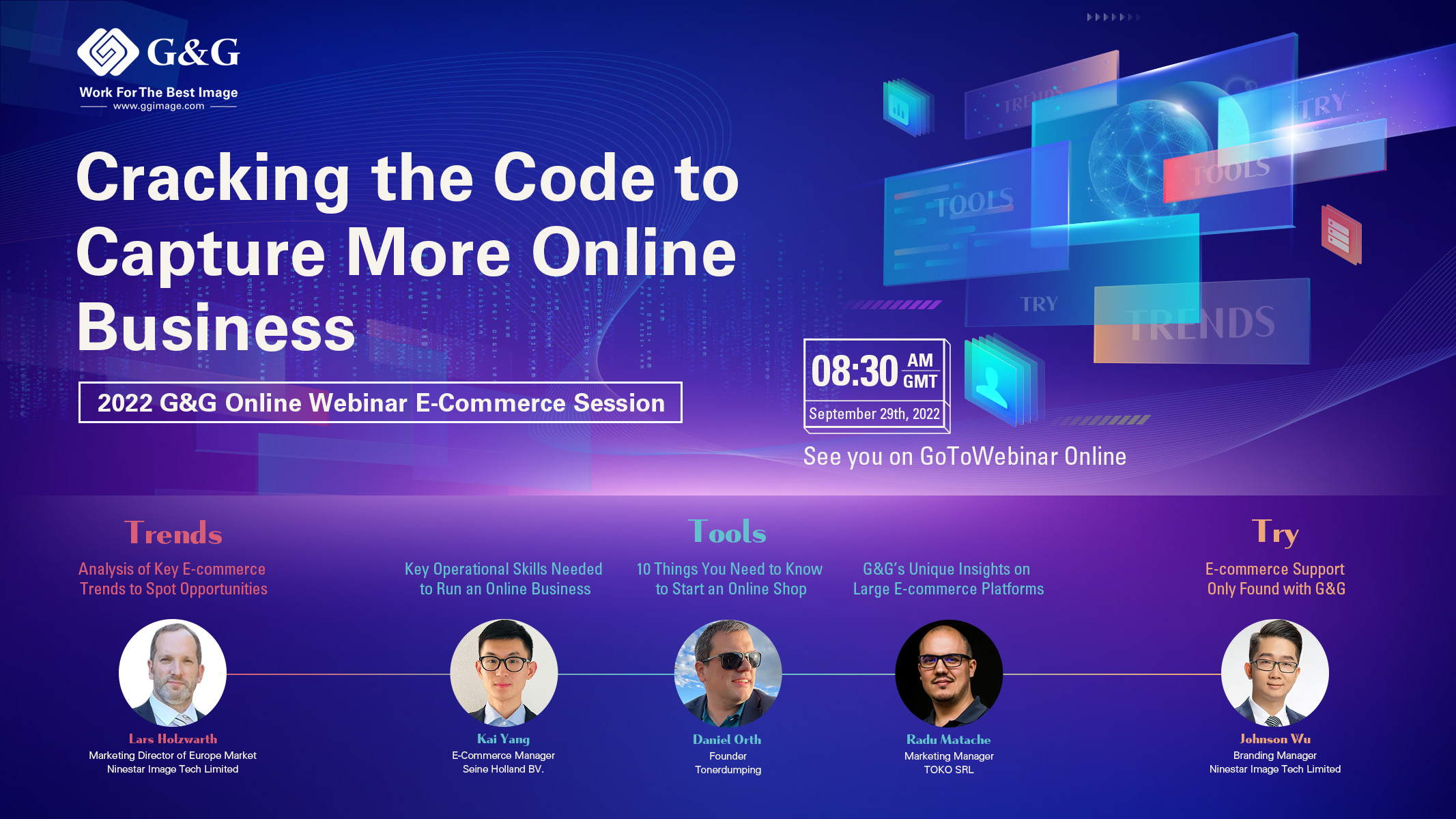 This is the event for those wanting to know which hot-sale products consumers are demanding. • How to choose products that will sell best online? • How to create a quality product listing? • How to promote your products on an online store?
This G&G webinar is set to back you up.
The upcoming webinar— Cracking the Code to Capture More Online Business will be held at 8:30 Greenwich Mean Time, September 29, 2022. In this webinar, we will explore how to capture more online business in the fast-changing e-commerce environment.
The webinar will cover:
Trends
Analysis of Key E-commerce Trends to Spot Opportunities
Lars Holzwarth
Marketing Director of the European Market
Ninestar Image Tech Limited
Tools
Key Operational Skills Needed to Run an Online Business
Kai Yang
E-Commerce Specialist
Seine Holland BV.
10 Things You Need to Know To start an Online Shop
Daniel Orth
Founder
Tonerdumping
G&G's Unique Insights on Large E-commerce Platforms
Radu Matache
Marketing Manager
TOKO SRL
Tactics
E-commerce Support Only Found with G&G
Johnson Wu
Branding Supervisor
Ninestar Image Tech Limited
We believe there must be an e-commerce "code" you are looking for. At the end of the webinar we will share a sneak preview of a new marketing tool we will be rolling out.
Come and join the not-to-be-missed event. Use this occasion to find, learn and grow from industry professionals to benefit your business.
CLICK HERE to Register Now.